The Occupation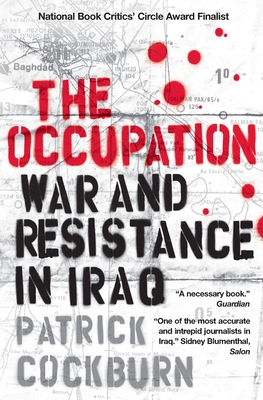 The Occupation
War and Resistance in Iraq
Verso, Paperback, 9781844671649, 229pp.
Publication Date: September 17, 2007
* Individual store prices may vary.
Buy at Local Store
Enter your zip code below to purchase from an indie close to you.
or
Not Currently Available for Direct Purchase
Description
In February 2003, Patrick Cockburn secretly crossed the Tigris river from Syria into Iraq just before the US/British invasion, and has covered the war ever since. In The Occupation, he provides a vivid and disturbing picture of a country in turmoil, and the dangers and privations endured by its people.

The Occupation explores the mosaic of communities in Iraq, the US and Britain's failure to understand the country they were invading and how this led to fatal mistakes. Cockburn, who has been visiting Iraq since 1978, describes the disintegration of the country under the occupation. Travelling throughout Iraq, from the Kurdish north, to Baghdad, Falluja and Basra, he records the response of the country's population – Shia and Sunni, Arab and Kurd – to the invasion, the growth of the resistance and its transformation into a full-scale uprising. He explains why deepening religious and ethnic divisions drove the country towards civil war.

Above all, Cockburn traces how the occupation's failure led to the collapse of the country, and the high price paid by Iraqis. He charts the impact of savage sectarian killings, rampant corruption and economic chaos on everyday life: from the near destruction of Baghdad's al-Mutanabi book market to the failure to supply electricity, water and, ironically, fuel to Iraq's population.

The Occupation is a compelling portrait of a ravaged country, and the appalling consequences of imperial arrogance.
About the Author
Patrick Cockburn is a distinguished writer and is the current Foreign Correspondent of the Year, one of the industry's most prestigious awards. In a lifetime of fighting to get the stories out from behind the barricades and between the bullets, Patrick most recently warned the world, before anyone else including governments and international agencies, of the dangerous rise of the so-called Islamic State. He is a journalist valued by heads of state and government.
Praise For The Occupation…
"A wealth of telling detail."—New York Times

"Cockburn's account of the evolving conflict ... is informed by his keen personal observations and understanding of the complexities and horrors of daily life in Iraq."—Library Journal

"Of the raft of books about the calamitous mismanagement of the intervention in Iraq, The Occupation is probably the most readable and certainly the only one that—even if only in the driest possible way—manages to be amusing."—Christopher Hitchens

"A masterpiece of journalism."—A. N. Wilson, Evening Standard

"From the front line itself, the brilliant and brave Patrick Cockburn has produced one of the best books of the year."—James Naughtie, The Herald

"Brilliantly told ... No Western reporter knows the country better."—John Freeman, The Plain Dealer

"A necessary book."—Guardian

"One of the most accurate and intrepid journalists in Iraq."—Sidney Blumenthal, Salon