What Mr Darwin Saw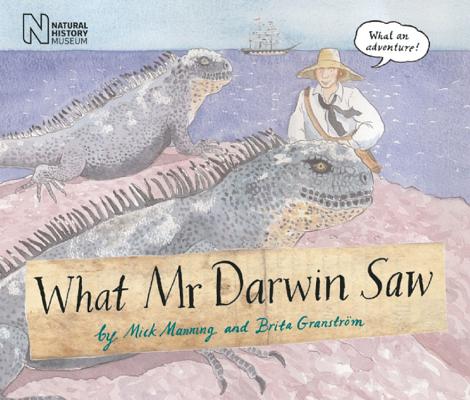 What Mr Darwin Saw
Frances Lincoln Ltd, Hardcover, 9781845079703, 48pp.
Publication Date: March 1, 2009
* Individual store prices may vary.
Buy at Local Store
Enter your zip code below to purchase from an indie close to you.
or
Not Currently Available for Direct Purchase
Description
In 1831, at only 22 years old, Darwin was offered the position of Naturalist on HMS Beagle's world voyage. He was set to become a clergyman but returns after five years at sea an inspired genius. This book follows the journey of HMS Beagle, showing life on-board the ship for Darwin, the captain, crew and the expedition's artist. The reader sees Darwin discovering and observing insect life in Brazil, fossils in Argentina, earthquakes in Chile and turtles in the Galapagos Islands. The reader is therefore able to follow the steps which led to Darwin's inspired theory of evolution, while also showing the adventures and escapades he had during the voyage. A fascinating and colourful story of Darwin's life, this book also introduces young readers to one of the world's most important scientists and his discoveries. It concludes with a simple explanation of the theory of evolution. Written by an outstanding team in the field of children's non-fiction, this is a book to enlighten and inspire young readers.
To watch a video describing Darwin's theory of evolution click here
About the Author
Mick Manning and Brita Granstrom have won many awards for their picture information books, including the Smarties Silver Award and the English Association Award. Their books for Frances Lincoln include The Beatles, Charles Dickens: Scenes from an Extraordinary Life, What Mr Darwin Saw, Tail-End Charlie, Taff in the WAAF, The Secrets of Stonehenge, Dino-Dinners, Woolly Mammoth, the Fly on the Wall series: Roman Fort, Viking Longship, Pharaoh's Egypt and Greek Hero, and Nature Adventures. They have four sons, and divide their time between the North of England and Brita's homeland of Sweden. Find out more about their books at www.mickandbrita.com.MICK MANNINGandBRITA GRANSTROMhave developed a unique approach to picture information books over the last 21 years. Sharingthe illustration between them and mixing words and pictures in inventive ways, they have won many awards, including the Smarties SilverAward, and are five-times winners of the English Association Award. Mick fell in love with wildlife on primary school nature walks many yearsago, and has an MA in Natural History Illustration from the Royal College of Art. Brita grew up on a farm, and has an MFA from Konstfack inStockholm. They spend a lot of their time having both Swedish and British Wild Adventures with their four children. Their other books for Frances Lincoln include: The Beatles;Charles Dickens, Scenes from an Extraordinary Life;WhatMr Darwin Saw;Tail-End Charlie;Taff in the WAAF;The Secrets of Stonehenge;Woolly Mammoth;andtheFly on the Wallseries: RomanFort, Viking Longship;Pharoah's Egypt;Greek Hero."