Medieval Polish Armies 966-1500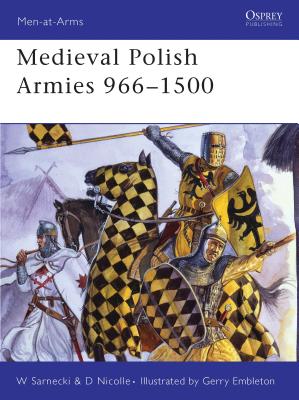 Medieval Polish Armies 966-1500
Osprey Publishing (UK), Paperback, 9781846030147, 48pp.
Publication Date: February 19, 2008
* Individual store prices may vary.
Buy Now
or
Shop Local
Enter your zip code below to purchase from an indie close to you.
Description
The history of Poland is a fascinating study of a people struggling to achieve nationhood in the face of internal and external enemies. Poland became a unified Christian state in AD 966 and by the 12th century a knightly class had emerged - a force that was integral to the defense of Poland against increasingly frequent foreign invasions. Intent on crushing rival Christian states, the Templars, Hospitallers and Teutonic Knights all mounted attacks but were beaten back by the Poles, as were invading Mongols and Turks. This book reveals the organization, equipment and battle histories of the medieval Polish armies as they developed and modernized to emerge as one of the dominant powers of Eastern Europe.
About the Author


DR. DAVID NICOLLE was born in 1944 and lives in England. He worked for BBC Television News and the BBC Arabic Services and, after returning to university to obtain a Doctorate, he taught in a Jordanian university. Since returning from the Middle East Dr. Nicolle has written numerous books, both academic and for the general reader, on various aspects of Islamic and medieval history. He has also contributed articles to many academic journals and specialist encyclopedias, and has presented papers at various scientific or historical conferences. Meanwhile Dr. Nicolle continues his research into medieval Islamic military technology, a field in which he is respected as a leading expert.

Gerry Embleton has been a leading illustrator and researcher of historical costume since the 1970s, and has illustrated and written Osprey titles on a wide range of subjects for more than 20 years. He is an internationally respected authority on 15th and 18th century costumes in particular. He lives in Switzerland, where since 1988 he has also become well known for designing and creating life-size historical figures for museums.
Praise For Medieval Polish Armies 966-1500…
"Supplied with a wealth of illustration, Medieval Polish Armies pulls out all the stops; a clear and concise reference guide, it provides extensive detail regarding the source of its material, including tomb effigies, etchings, and contemporary art that often becomes the best source for determining what types of weaponry and armor were in use in a specific time and location...Far more than the historian's equivalent of Cliffs Notes, this book, like its companions, is an invaluable addition to any medieval library; its value to re-enactors, writers, modelers and scholars alike far outstrips the slim volume's weight in gold." -Richard MacKenzie, Renaissance Magazine (January 2009)

"In all, Sarnecki and Nicolle's volume on this important part of history is not only the first done in English, but is a fascinating look into the events of the time. A book you'll be sure to find fascinating."- Scott Van Aken, modelingmadness.com (May 2008)

"This is a superb book for anyone interested in the medieval period, covering an often-neglected area. Western, particularly German, styles of arms and armour mixed with those of eastern areas to produce a fascinating variety, and they're all well-illustrated and described here. We also get a potted history of Poland and its fights against foreign invasion over the centuries... Very highly recommended." -John Prigent, Internet Modeler (March 2008)