Sherman's March to the Sea 1864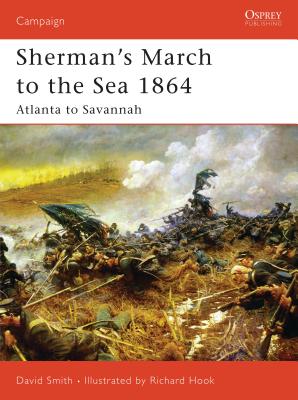 Sherman's March to the Sea 1864
Atlanta to Savannah
Osprey Publishing (UK), Paperback, 9781846030352, 96pp.
Publication Date: February 27, 2007
* Individual store prices may vary.
Buy at Local Store
Enter your zip code below to purchase from an indie close to you.
or
Not Currently Available for Direct Purchase
Description
The March to the Sea was the culmination of Union General William T. Sherman's 1864 campaign during the American Civil War (1861-1865) and was a devastating example of "total war." Confederate hopes in 1864 hinged on frustrating Union forces in the field and forcing Abraham Lincoln out of office in the November elections. However, this optimism was dampened by Sherman's success in the battle of Atlanta that same year.
Riding on the wave of this victory, Sherman hoped to push his forces into Confederate territory, but his plan was hindered by a Confederate threat to the army's supply lines.
After much delay, he boldly chose to abandon these, forcing the army to live off the land for the entirety of the 285-mile march to Savannah, destroying all war-making capabilities of the enemy en route, and inflicting suffering not only on Confederate troops, but also on the civilian population. Despite the vilification that this brutal tactic earned him, the march was a success.
Supported by contemporary photographs, detailed maps, bird's eye views, and battlescene artwork, this title explores the key personalities, strategies, and significant engagements of the march, including the battles of Franklin and Nashville, and the ultimate fall of Savannah to the Union, to provide a detailed analysis of the campaign that marked the "beginning of the end" of the American Civil War.
About the Author
David Smith is a freelance writer on a variety of subjects. His main area of interest in US military history. He attended the University of Iowa and University of Hull for his degree in American Studies. He then completed his MA with distinction at the University of Liverpool in Military Studies, his thesis was on the American Revolution. He intends to complete his PhD on the American Civil War, and has been offered a fellowship by the University of Chester. He now lives in Chester, UK. The author lives in Chester, UK.
Praise For Sherman's March to the Sea 1864…
"This brief study, designed as an illustrated overview of the campaign, examines in some detail various battles around Atlanta, such as Allatoona Pass, through the fall of Savannah"- Ted Alexander, Blue & Gray Magazine (Holiday 2007)

"Along with an excellent choice of period photographsd and the superb artwork maps of Richard Hook, the story of this pivotal campaign and the major battles therein are brought to life. It is another superb Osprey work and one that I know you will find as enjoyable and interesting as did I." -Scott Van Aken, modelingmadness.com