US Navy Aircraft Carriers 1942-45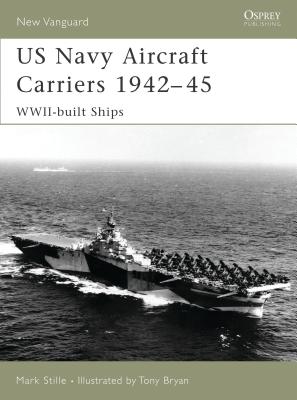 US Navy Aircraft Carriers 1942-45
WWII-Built Ships
Osprey Publishing (UK), Paperback, 9781846030376, 48pp.
Publication Date: February 27, 2007
* Individual store prices may vary.
Buy Now
or
Shop Local
Enter your zip code below to purchase from an indie close to you.
Description
Dominating the seas during World War II, the US aircraft carrier played a crucial role in every major naval combat of the war.
Development of the "Essex" class began in 1941, and was the largest class of carrier ever built. During the Pacific War it formed the backbone of any fighting force and became renowned for its mighty 'Sunday Punch' - the impressive offensive power of 36 fighter planes, 36 dive bombers, and 18 torpedo planes.
The "Independence" class was a lighter and faster carrier, built after Pearl Harbor, to bring more ships into action as quickly as possible. Alongside the Essex class their crews saw a dramatic change in tactical deployment as they began to form the fast carrier task forces that were so effective in Pacific operations.
Featuring an annotated cutaway and artwork detailing both the interior and exterior features of the ships, this book explores the design, development, and deployment of both the "Essex" and "Independence" class of light carriers. This sequel to "US Navy Aircraft Carriers 1922-45: Prewar classes" (New Vanguard 114), provides a detailed exploration of the carriers that were at the forefront of many actions in World War II, including the climatic battles of Phillipine Sea and Leyte Gulf in 1944.
About the Author
Mark E. Stille (Commander, United States Navy, retired) received his BA in History from the University of Maryland and also holds an MA from the Naval War College. He has worked in the intelligence community for 35 years including tours on the faculty of the Naval War College, on the Joint Staff and on US Navy ships. He is currently a senior analyst working in the Washington DC area. He is the author of numerous Osprey titles, focusing on naval history in the Pacific.

Innes McCartney is an historian and nautical archaeologist, specializing in 20th-century naval vessels. He lectures widely on a number of associated subjects. A passion for shipwrecks has led to some famous discoveries, including the submarine M1 and the battlecruiser "HMS Indefatigable," His previous book, "Lost Patrols" detailed his uncovering the 121 submarines sunk in the English Channel. His own underwater photography illustrates this book. The author lives in Cornwall, UK.
Tony Bryan is a freelance illustrator of many years' experience who lives and works in Dorset. He initially qualified in Engineering and worked for a number of years in Military Research and Development, and has a keen interest in military hardware - armor, small arms, aircraft and ships. Tony has produced many illustrations for partworks, magazines and books, including a number of titles in the New Vanguard series. Tony Bryan lives in Dorset, UK.
Praise For US Navy Aircraft Carriers 1942-45…
"The superlative images in the book are further enhanced by the artwork of Tony Bryan... this is a book that ship fans will just have to have in their libraries and the rest of us will find it an excellent primer on the types." -Scott Van Aken, modelingmadness.com

"The book does its job well in describing the Essex and Independence class carriers. There are also many photographs and paintings of the carriers while either on a regular cruise or in combat actions. In all, a good book from Osprey to read for those interested in US carriers and their operations." - Andrew Nguyen, ww2db.com (October 2009)