Hittite Warrior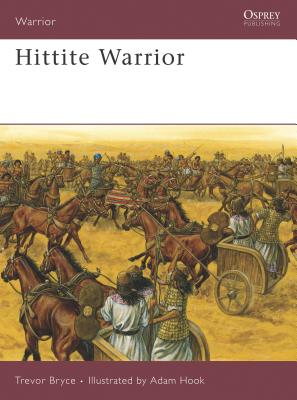 Hittite Warrior
Osprey Publishing (UK), Paperback, 9781846030819, 64pp.
Publication Date: August 21, 2007
* Individual store prices may vary.
Buy at Local Store
Enter your zip code below to purchase from an indie close to you.
or
Buy Here
Description
Written by Trevor Bryce, one of the world's leading experts on the Hittites, this book charts the rise and fall of a warrior people famed for their ferocity, who built an empire which stretched from Mesopotamia to Syria and Palestine. Regarded as barbarians by the Egyptians, for a hundred years the Hittites fought a draining war against the Egyptians - the climax of which saw the Hittites defeated and their 400-year-old empire destroyed at the Battle of Qadesh (1274 BC).
Thought to have invented iron, used to forge their weapons, and known for pioneering a revolutionary three-man chariot system, Bryce details the day-to-day lives of Hittite warriors. He examines their training, equipment, tactics, and motivations, as well as their unique attitude to religion which saw them adopt the gods of the people they conquered. The inclusion of a Hittite manual which describes, in detail, the training of horses and the warriors that rode them in battle, as well as original full color illustrations make this book a fascinating and enlightening addition to an often ignored subject.
About the Author
Trevor Bryce is Honorary Research Consultant, University of Queensland, and Fellow of the Australian Academy of the Humanities.


Adam Hook studied graphic design, and began his work as an illustrator in 1983. He specializes in detailed historical reconstructions, and has illustrated Osprey titles on subjects as diverse as the Aztecs, the Ancient Greeks, Roman battle tactics, several 19th-century American subjects, the modern Chinese Army, and a number of books in the Fortress series. His work features in exhibitions and publications throughout the world.
Praise For Hittite Warrior…
"Beautifully and professionally produced, as are all Osprey publications, this book has 8 color, 39 black and white photos, and 4 maps ... The combination of color plates and well-researched text from rare first-hand sources makes this a must for those interested in this army and period." -Michael Koznarsky, Historical Miniature Gamer (Issue 10)

"Trevor Bryce's Hittite Warrior is written by an expert on the topic and follows the history of a warrior people famed for their ferocity. Their early empire stretched from Mesopotamia to Syria and Palestine: this book examines not only their history and culture, but specifically their battle tactics and strategies." -The Bookwatch (February 2008)

"Bryce not only deals with the soldiers' life, but the lives of ordinary Hittites as well to place the military into context... While there are a number of good learned books and articles about the Hittites, this new volume is a useful primer on the subject and as such I can recommend it to the modeller and wargamer." -Paul Bradley, International Plastic Modeler's Society

"It is a book that should be on the shelf of any serious historian or those who have an interest in this era. One I enjoyed reading and can highly recommend to you." -Scott Van Aken, modelingmadness.com (August 2007)