Rise of Rome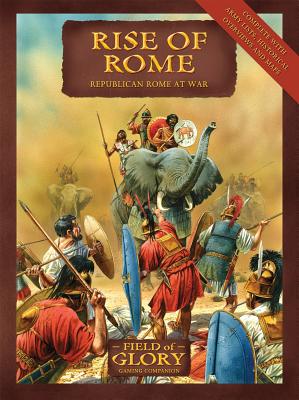 Rise of Rome
Republican Rome at War
Osprey Publishing (UK), Paperback, 9781846033445, 70pp.
Publication Date: February 19, 2008
* Individual store prices may vary.
Buy at Local Store
Enter your zip code below to purchase from an indie close to you.
or
Not Currently Available for Direct Purchase
Description
Rise of Rome is the first companion list released to complement Field of Glory. This visually stunning package contains comprehensive army listings with detailed historical overviews of each army, supporting maps and Osprey artwork bringing the history of the Roman Republic to life and extending the gaming possibilities for Field of Glory players. Covering the soldiers of the Republic as well as their many enemies, this title puts you in the midst of Rome's titanic struggle for empire. From the war against Pyrrhos of Epeiros until the victories of Augustus, and with conflicts such as the Punic Wars, including Rome's bloody conflict with Hannibal, these army lists will help any gamer refight some of the world's greatest battles.
About the Author
Written by renowned wargaming experts, including Richard Bodley Scott, former contributor to Wargames Research Group's DBM series. The author lives in Oxford, UK.

Peter Dennis was born in 1950. Inspired by contemporary magazines such as Look and Learn he studied illustration at Liverpool Art College. Peter has since contributed to hundreds of books, predominantly on historical subjects, including many Osprey titles. A keen wargamer and modelmaker, he is based in Nottinghamshire, UK.


Praise For Rise of Rome…
"Rise of Rome covers the period 280BC to 25BC, taking in the most significant wars of Republican Rome. The book contains 18 armies: the Romans, their enemies such as Carthage and the Seleucods, and significant allies. Each army has several pages giving it a quick start list and a more extensive list for choosing a bigger army to a points value. The lists are accompanied by historical notes and pictures. There is also a short history of the period, a single battle description with map, and a section on doing themed tournaments." -Richard Milner, DAKKA DAKKA

On Rise of Rome and Storm of Arrows:

"[These are Field of Glory's] two companions, providing detailed army lists for their respective periods covering every conceivable opponent - and quite a few that I hadn't even heard of despite what I thought was extensive reading about both periods... Highly recommended..." -John Prigent, Internet Modeler (March 2008)

Both "offer fine companion volumes for players, providing clear specifics on regional battles and history. Hundreds of researched troop types are accompanied by maps, art and overviews perfect for military libraries and any specializing in wargaming." -California Bookwatch (April 2008)