Trenton and Princeton 1776-77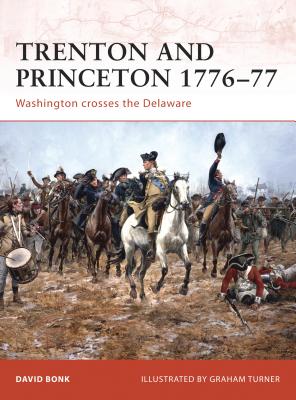 Trenton and Princeton 1776-77
Washington Crosses the Delaware
Osprey Publishing (UK), Paperback, 9781846033506, 96pp.
Publication Date: January 20, 2009
* Individual store prices may vary.
Not Currently Available for Direct Purchase
or
Shop Local
Enter your zip code below to purchase from an indie close to you.
Description
Following the battle of White River and the fall of Forts Washington and Lee during the American Revolutionary War (1775-1783), George Washington withdrew his army, crossing the Delaware River to regroup. However, with morale at a critical low and the terms of enlistment of many of his troops set to expire, Washington decided on one more strike before the winter weather made military operations impossible. Re-crossing the Delaware on Christmas night, 1776, Washington's army surprised the Hessian garrison at Trenton and managed to kill, wound or capture 1,000 of the enemy for the loss of only four men. Then, avoiding a major engagement with the British Army under General Cornwallis that had been sent to track him down, Washington attacked and defeated another small British force at Princeton. Having inflicted two costly and embarrassing defeats on the British forces, Washington withdrew his army into winter quarters at Morristown.
Using a combination of modern photographs and period artwork, this book tells the story of the legendary campaign that restored the morale of American forces, caused the British to abandon large parts of New Jersey, and established General George Washington's reputation as a daring military strategist.
About the Author


Graham Turner is a leading historical artist, specializing in the medieval period. He has illustrated numerous titles for Osprey, covering a wide variety of subjects from the dress of the 10th-century armies of the Caliphates, through the action of bloody medieval battles, to the daily life of the British Redcoat of the late 18th century. The son of the illustrator Michael Turner, Graham lives and works in Buckinghamshire, UK.
Praise For Trenton and Princeton 1776-77…
"It is a great book, especially for the student of the Revolutionary War and shows how even small victories can help turn the tide. A book I know you will enjoy reading." -Scott Van Aken, modelingmadness.com (February 2009)