Israeli Fortifications of the October War 1973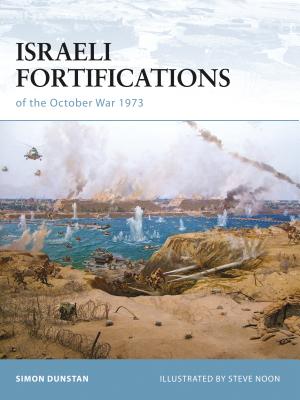 Israeli Fortifications of the October War 1973
Osprey Publishing (UK), Paperback, 9781846033612, 64pp.
Publication Date: November 18, 2008
* Individual store prices may vary.
Buy at Local Store
Enter your zip code below to purchase from an indie close to you.
or
Buy Here
Description
The Bar Lev Line along the Suez Canal was born out of the overwhelming victory of the Israel Defense Forces (IDF) in the Six Day War of 1967. Devastated by their defeat, the Egyptian army began a prolonged campaign of artillery bombardments of Israeli positions causing many casualties. Accordingly, the IDF Chief of Staff, General Haim Bar-Lev, ordered the construction of a series of fortified positions and observation posts that were named the Bar Lev Line by the Israeli press, thanks to its inevitable association with the heavily fortified Maginot Line.
This book examines the original 23 positions of the Bar Lev Line, known as Moazims (Moaz is 'castle keep' in Hebrew), each of which were between five and 15 kilometers apart and surrounded by barbed wire and minefields. With rare photographs and cutaway artwork, the design of these positions is described. Finally, the author analyzes the effectiveness of these positions when the Egyptians launched an offensive on Yom Kippur 1973. Manned by just 436 reservists the Moazims were quickly cut off and the Israeli defenders paid a high price with a casualty rate of almost 50 percent. Although widely criticized, the Bar Lev Line proved a success during the war of attrition, and in 1973 it was the political and military failures which allowed the Moazims to be surrounded, rather than the failure of the defensive line itself.
About the Author
Simon Dunstan is a well-established author, filmmaker and photographer in the field of military history, whose books include Vietnam Tracks, Vietnam Choppers, and The Yom Kippur War 1973. Mr. Dunstan lives and works in London.

Steve Noon was born in Kent, UK, and attended art college in Cornwall. He's had a life-long passion for illustration, and since 1985 has worked as a professional artist. He has provided award-winning illustrations for the publishers Dorling Kindersley, where his interest in historical illustration began. Steve has illustrated over 30 books for Osprey.
Praise For Israeli Fortifications of the October War 1973…
"About half of this book deals with the details of the fortifications, and about half with the general strategic and tactical situation... This is an interesting book dealing with the continuing value of fortifications in the modern age, and it will prove instructive to those interested in that subject." -Bolling Smith, Coast Defense Journal (March 2009)

"Most of these small forts on the canal line proved resistant to the heavy bombardments that took place during the War of Attrition. The author details the events of that period, although he covers less of the actual 1973 war. He follows the changing policy and importance of air operations as well as the use of armor... [This] book is one of the most interesting to appear this year and leaves the reader wondering about the actual potential of modern fortifications." -J.E. Kaufmann, SiteO Newsletter (January 2009)

"Author Dunstan provides us a full history of the development and use of these fortifications. Thanks to period photos and the fine art work of Steve Noon, we can see what it was like to live in these cramped quarters and how they were used when the time was upon them. The Sinai was eventually returned to the Egyptians, who have kept some of these forts in use and set aside others as museums. Many have disappeared under the development that has taken over the Canal coastline, but if one looks, one can find remnants. Of course, visiting these places is difficult as the entire area is an Egyptian Military Zone, but it is not impossible. This is a section of fortification history that one outside this part of the world thinks about. This book provides the most information on these fortifications yet published and it is, as with all Osprey titles, an excellent read and reference." -Scott Van Aken, modelingmadness.com (December 2008)