British Forts in the Age of Arthur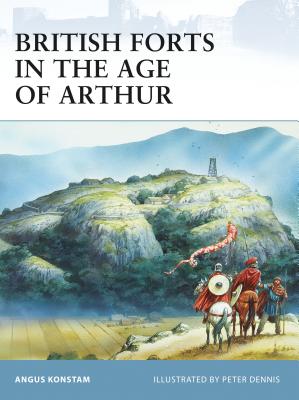 British Forts in the Age of Arthur
Osprey Publishing (UK), Paperback, 9781846033629, 64pp.
Publication Date: November 18, 2008
* Individual store prices may vary.
Buy at Local Store
Enter your zip code below to purchase from an indie close to you.
or
Not Currently Available for Direct Purchase
Description
When the Romans left Britain around AD 410 the island had not been fully subjugated. In the Celtic fringes the unconquered native peoples were presented with the opportunity to pillage what remained of Roman Britain. By way of response the Post-Roman Britons did their best to defend themselves from attack, and to preserve what they could of the systems left behind by the Romans. The best way to defend their territory was to create fortifications. While some old Roman forts were maintained, the Post-Roman Britons also created new strongholds, or re-occupied some of the long-abandoned hill-forts first built by their ancestors before the coming of the Romans.
Packed with photographs, diagrams and full color artwork reconstructions, this book provides a unique examination of the design and development of the fortifications during the Age of Arthur, analyzing their day-to-day use and their effectiveness in battle. It closely describes the locations that are linked to the most famous warlord of the Dark Ages, the legendary Arthur - Tintagel, Cadbury and "Camelot." Although these great bastions were to eventually fall, for a few brief decades they succeeded in stemming the tide of invasion and in doing so safeguarding the culture and civilization of Post-Roman Celtic Britain.
About the Author
With over 50 history books in print, Angus is a widely recognised and much-published historian. While he specialises in military and naval history he has also written numerous more general history books, designed to make the subject more accessible to a wider audience. Uniquely he has been able to draw on his expertise as a senior museum curator who has worked on both sides of the Atlantic, as well as on his academic training as a historian and as a maritime archaeologist. His latest book is a full-length biography: Blackbeard: America's Most Notorious Pirate, which is published by Wiley & Sons. of New York (June 2006) Angus is also just finished writing a history of the Allied landings at Salerno in September 1943 for the British publisher Pen & Sword, and he is currently working on a new project, with the working title of Supership: The Quest for the Renaissance Battleship. Angus lives in Edinburgh, in Scotland.

Peter Dennis was born in 1950. Inspired by contemporary magazines such as Look and Learn he studied illustration at Liverpool Art College. Peter has since contributed to hundreds of books, predominantly on historical subjects, including many Osprey titles. A keen wargamer and modelmaker, he is based in Nottinghamshire, UK.
Praise For British Forts in the Age of Arthur…
"This books makes the most of a period about which little is conclusively known. It will be of value to those interseted in this era of British history." -Bolling Smith, The Coast Defense Journal (March 2009)

"For any person interested in the time period when Britain hung in the balance between Briton and Saxon, this is a must-have book." -Jeff Grim, Collected Miscellany

"The book covers the fortifications of England and Wales during the early period of the English Dark Ages through the Anglo Saxon invasions. The author examines possible abandoned Roman fortifications the Celtic Britons may have used and the more traditional hill top forts with earthen defenses and wooden walls. A more detailed view of South Cadbury is presented since for many years it had been considered the site of legendary King Arthur's Camelot (or at least the real king the legend grew out of). The site of Dinas Emrys in Wales, associated with Merlin and the myth of the underground pool with two dragons is described with the legend. This work also relates the Arthurian legend to many of the sites presented. The author also explains the use of the long dykes thought to be fortifications. For those interested in the period and the legends, this work helps reveal the reality." -JE Kauffman, SiteO Newsletter (January 2009)

"King Arthur. Few things capture the essence of romance, chivalry, mystery, and our imaginations the way that Arthur and the Knights of the Round Table do. Most wargamers are aware that the origins of Arthur are shrouded in mystery. Perhaps less well known (or at least less well discussed) is the question as to whether Arthur even existed at all. Readers wishing for a quick introduction into both the debate and the archeological evidence that exists during the "Arthurian" period would do well to pick up a copy of Angus Konstam's British Forts in the age of Arthur." -Mike Dorn, The Wargamer (January 2009)