Who Dares Wins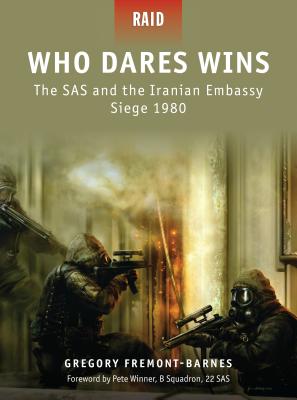 Who Dares Wins
The SAS and the Iranian Embassy Siege 1980
Osprey Publishing (UK), Paperback, 9781846033957, 64pp.
Publication Date: October 20, 2009
* Individual store prices may vary.
Buy at Local Store
Enter your zip code below to purchase from an indie close to you.
or
Buy Here
Description
For 5 days in May 1980, thousands watched around the world as the shadowy figures of the SAS performed a daring and dramatic raid on the Iranian Embassy in London, catapulting a little-known specialist unit into the full glare of the world's media. Hailed by Margaret Thatcher as "a brilliant operation, carried out with courage and confidence," the raid was a huge success for the SAS, who managed to rescue nineteen hostages with near-perfect military execution, although two hostages were killed by terrorists. Despite the acclaim and media attention, details of the siege are still largely unknown and those at the heart of the story, the identities of the SAS troopers themselves, remain a closely guarded secret.
This book takes a concise and in-depth look at the dramatic events of the Iranian Embassy Siege, revealing the political background behind it and carefully analyzing the controversial decision by the Prime Minister and Home Secretary to sign over control of the streets of London to the military. Unique bird's eye view artwork illustrates the moment the walls were breached and show how the strict planning of the operation was critical to its success. With input from those involved in the mission, and discussion on the effective training regimes of the SAS, the author strips away some of the mystery behind the best counter-terrorism unit in the world and their most famous raid.
About the Author
Gregory Fremont-Barnes holds a doctorate in Modern History from Oxford University. He is the author of The French Revolutionary Wars, The Peninsular War, 1807-1814, The Fall of the French Empire, 1813-1815, The Boer War, 1899-1902, The Wars of the Barbary Pirates, Trafalgar 1805, and Nelson's Sailors. He is also editor of the three-volume Encyclopedia of the French Revolutionary and Napoleonic Wars and co-editor of the five-volume Encyclopedia of the American Revolutionary War. He has long-held a fascination with the development and deployment of special forces and the SAS in particular. The author lives in Surrey, England.