Seafire Vs A6M Zero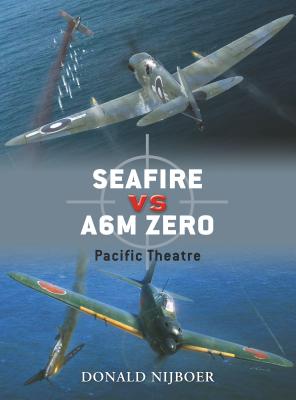 Seafire Vs A6M Zero
Pacific Theatre
Osprey Publishing (UK), Paperback, 9781846034336, 80pp.
Publication Date: April 21, 2009
* Individual store prices may vary.
Buy Now
or
Shop Local
Enter your zip code below to purchase from an indie close to you.
Description
Products of vastly different design philosophies, the Seafire F III and the A6M Zero were never intended to meet in combat, and never should have. Yet the harsh necessities of war intervened and these two planes were pitted against each other in the last dogfight of World War II, high above the Japanese home lands. The Zero, with its clean design, low weight and high lift, was extremely nimble at low speeds and ideally suited to the job it was intended to do. In contrast, the Spitfire was not designed as a shipboard fighter; it was a short-range interceptor, intended for operations from established airfields and supported by a well stocked infrastructure of spares and qualified maintenance personal. With a different twist on the Duel concept, this book examines these two iconic fighters and their two very different histories; one was 'adapted' for a role it was never intended to carry out, the other was purpose built and proved to be one of the finest fighters of World War II. Using fantastic artwork and intimate first-hand accounts, the author discusses the decline of the Japanese Naval Air Force and its principal fighter, the Zero, in contrast to the British Seafire, as it overcame its critics to become the best pure carrier interceptor of the war and emerge victorious in the last aerial duel of World War II.
About the Author


by Donald Nijboer; photography by Dan Patterson; foreword by Air-Vice Marshal Ron Dick, RAF (ret.)

Jim Laurier is a native of New England and lives in New Hampshire. He attended Paier School of Art in Hamden, Connecticut, from 1974 78, and since graduating with Honours, he has been working professionally in the field of Fine Art and Illustration. He has been commissioned to paint for the US Air Force and has aviation paintings on permanent display at the Pentagon.
Praise For Seafire Vs A6M Zero…
"In this book, the author, Donald Nijboer, discusses the development of both aircraft as well as their technical specifications and deployments. Pilot training and tactics are also part of the story and one will find quite a few 'I was there' stories to add some spice to the book. As part of the appendices, there is a section on stats and analysis as well as a listing of those FAA pilots whose scores included an A6M. In all, a superlative inclusion to this series. It is a book that I thoroughly enjoyed reading and is one that I know you will find a delight as well." -Scott Van Aken, Modeling Madness - www.modelingmadness.com (July 2009)

"Seafire vs. A6M Zero: Pacific Theater continued the tradition of the "Duel" series well, providing readers a nice primer for machines that fought each other during the great war." -C. Peter Chen, World War 2 Database/ww2db.com (December 2009)