Ships of the American Revolutionary Navy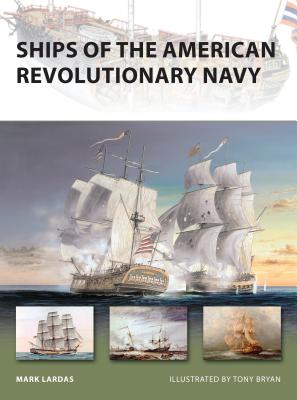 Ships of the American Revolutionary Navy
Osprey Publishing (UK), Paperback, 9781846034459, 48pp.
Publication Date: November 24, 2009
* Individual store prices may vary.
Buy at Local Store
Enter your zip code below to purchase from an indie close to you.
or
Buy Here
Description
In this title, Mark Lardas explores the origins of American warships, primarily light and medium frigates, built for the Continental Navy during the years 1776-1783. This was the first navy of the United States and much of the fleet was comprised of ships that had been modified from existing vessels, converted into warships to provide a crucial service during the American Revolutionary War. Despite having no real funding, this unique fleet had a surprising amount of success against the might of the Royal Navy, and this title discusses the strengths and weaknesses of each design, and the differences between European and American warships of the time. With a close look at how these ships performed in key battles, as well as the exploits of John Paul Jones - the founding father of the United States Navy - this is a complete, illustrated overview of the ships' service and development until France's entry into the war and the subsequent decline in importance of the Continental Navy.
About the Author
Mark Lardas is the author of numerous books on maritime and Texas history. A longtime resident of Texas, he has maintained an interest in the Texas maritime history, including shipwrecks. With generous assistance from and in cooperation with the Institute of Nautical Archeology at Texas A&M University, and numerous museums throughout the state of Texas, he has pulled together a fascinating collection of images to illustrate Texas's maritime history as seen from its shipwrecks from Cabeza de Vaca's first shipwreck in 1528 through the 21st century.

Innes McCartney is an historian and nautical archaeologist, specializing in 20th-century naval vessels. He lectures widely on a number of associated subjects. A passion for shipwrecks has led to some famous discoveries, including the submarine M1 and the battlecruiser "HMS Indefatigable," His previous book, "Lost Patrols" detailed his uncovering the 121 submarines sunk in the English Channel. His own underwater photography illustrates this book. The author lives in Cornwall, UK.
Tony Bryan is a freelance illustrator of many years' experience who lives and works in Dorset. He initially qualified in Engineering and worked for a number of years in Military Research and Development, and has a keen interest in military hardware - armor, small arms, aircraft and ships. Tony has produced many illustrations for partworks, magazines and books, including a number of titles in the New Vanguard series. Tony Bryan lives in Dorset, UK.
Praise For Ships of the American Revolutionary Navy…
"This volume by Osprey has 48 pages and provides an excellent overview the design and development, the operational history, and the ships of the Continental Navy... I highly recommend this volume to anyone interested in the American Revolution, wooden wind-powered warships, or the history of the US Navy." - Jeff Leiby, IPMS (January 2010)

"Other recommendations for specialty military history collections include... Mark Lardas' Ships of the American Revolutionary Navy, telling of warships during the years 1776-83 who formed the first navy of the US." -The Bookwatch (January 2010)

"In this volume, author Mark Lardas looks at the design and the development of ships built in the US as well as those purchased or converted. We also see how these ships performed in battle  with many now-famous captains, ships and events. The book then goes into a look of each of the classes of ships built and each of the three major types is provided a section. This is superbly illustrated by Tony Bryan and includes cut-away illustrations of several types. An inclusion of period art work and illustrations also helps us to see what these ships looked like. An excellent book on a most interesting subject and one that I am positive you will find to be of interest. One that will be pulled from the shelves time after time and one I can highly recommend to you." -Scott Van Aken, Modeling Madness/modelingmadness.com (December 2009)