USN F-4 Phantom II Vs VPAF MiG-17/19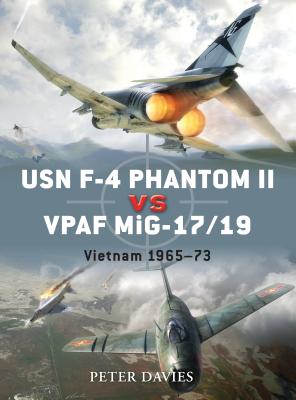 USN F-4 Phantom II Vs VPAF MiG-17/19
Vietnam War 1965-72
Osprey Publishing (UK), Paperback, 9781846034756, 80pp.
Publication Date: November 17, 2009
* Individual store prices may vary.
Buy at Local Store
Enter your zip code below to purchase from an indie close to you.
or
Not Currently Available for Direct Purchase
Description
The Vietnam War placed unexpected demands upon American military forces and equipment, which had been focused on the probability of tactical nuclear warfare. The principal US naval fighter, the McDonnell F-4 Phantom, had originally been designed to defend the Fleet from air attack at long range. However, its tremendous power and bomb-carrying capacity made it an obvious candidate for the attack mission in Vietnam from 1965 onwards. Its opponent was the MiG-17, a direct descendant of the MiG-15, which had given USAF Sabre jets a hard fight in the Korean War. This book brings to life their dangerous duels and includes detailed cockpit views and other specially commissioned artwork to highlight the benefits and shortcomings of each plane type. It was in the skies over Vietnam that many of the techniques of air combat evolved as pilots learned how to use and to defeat supersonic fighters for the first time.
About the Author
Peter Davies is Associate Professor at the School of Law, University of Nottingham, where his main teaching and research interests lie in international environmental law and European Union environmental law.



Jim Laurier is a native of New England and lives in New Hampshire. He attended Paier School of Art in Hamden, Connecticut, from 1974 78, and since graduating with Honours, he has been working professionally in the field of Fine Art and Illustration. He has been commissioned to paint for the US Air Force and has aviation paintings on permanent display at the Pentagon.
Praise For USN F-4 Phantom II Vs VPAF MiG-17/19…
"Having already pitted the McDonnell F-4 Phantom IIs of the US Air Force against Miyokan-Gurevich MiG-21s of the Vietnamese People's Air Force for Osprey Publishing's DUEL series, British jet warplane expert Peter Davies follows up with a less likely match in USN F-4 Phantom II vs VPAF MiG-17... Davies [book] is an interesting study in how tactics and the strategic situation allowed an outdated fighter design to match an instrinsically superior opponent. [It] is also a lesson in how acting on lessons learned can dramatically change the outcome of the fight when it goes into Round Two." -Jon Guttman, Vietnam Magazine (April 2010)

"From a historical perspective, the best part was the side by side comparisons of the aircraft. From a modeling perspective, the color paintings of the cockpits were the best. While there are thousands of pictures of Phantoms out there as well as a few of the Migs, I have not seen the detail in color that this book's paintings bring out. I would recommend this book to all who want a concise yet different approach to these to aircraft as well as to the modelers who want to build them. This book does a great job of wrapping a lot of information into a small package!" -Tracy Palmer, International Plastic Modellers Association (January 2010)

"In this book, author Peter Davies covers the development and deployment of both the Phantom and the MiGs. It has a good look at the training and capabilities of their respective pilots as well as how they performed in combat. It also weighs in on how the tactical and strategic situation affected the two sides and their approach to combat situations. In all, it is, in this reviewer's opinion, one of the best of an already superb series. If you want to read about what it was like during that time, then this is a book you simply must pick up." -Scott Van Aken, Modeling Madness/modelingmadness.com (December 2009)

"Accented by profile and cockpit artwork as well as occasional biographies of specific aviators from both sides, Peter Davies' book is sure to add to the growing number of well-done works on the Vietnam War." - CDR Peter Mersky, The Hook (Summer 2010)