American Civil War Guerrilla Tactics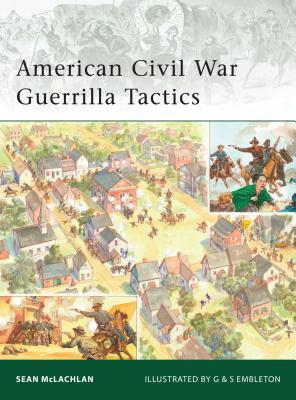 American Civil War Guerrilla Tactics
Osprey Publishing (UK), Paperback, 9781846034947, 64pp.
Publication Date: September 29, 2009
* Individual store prices may vary.
Buy Now
or
Shop Local
Enter your zip code below to purchase from an indie close to you.
Description
Osprey's examination of guerilla tactics employed during the American Civil War (1861-1865). While the giant armies of the Union and the Confederacy were fighting over cities and strategic strongholds, a large number of warriors from both sides were fighting, smaller, more personal battles. Beginning with the violent struggle known as "Bleeding Kansas," armed bands of irregular fighters began to wage war in every corner of the United States. Many of the names of their commanders have become legendary, including William Quantrill, "Bloody Bill" Anderson, and John S. Mosby, "The Grey Ghost." To their own people they were heroes; to others they were the first of a new generation of wild west outlaw. Their tactics including robbing banks and trains, kidnapping soldiers and civilians, rustling cattle, and cutting telegraph lines. In fact, it is during the violence of the war that many of America's future outlaw legends would be born, most notably Cole Younger and Frank and Jesse James. In this book, new Osprey author Sean McLachlan explores the varied and often daring tactics employed by these famous warriors.
About the Author
Sean McLachlan is a former archaeologist who worked for many years on excavations in the Middle East, Europe, and the United States. Now a full-time writer, he specializes in history and travel. His main historical research interests are medieval weapons and the Civil War west of the Mississippi. For his travel writing, he focuses on historical destinations and adventure travel. Sean spends much of his time on the road researching and writing. He's traveled to more than 30 countries, interviewing nomads in Somaliland, climbing to clifftop monasteries in Ethiopia, studying Crusader castles in Syria, and exploring caves in his favorite state of Missouri. He is the winner of the 2013 Lowell Thomas Travel Journalism Award from the Society of American Travel Writers for his Iraq reportage. Sean is always happy to hear from his readers, so drop him a line!

Martin Windrow is an English military historian and a long-time commissioning and art editor for Osprey Publishing. He is the author of numerous books of military history, including "The Last Valley", a distinguished history of the French defeat in Vietnam. He lives in the Sussex Downs country of southern England.

Gerry Embleton has been a leading illustrator and researcher of historical costume since the 1970s, and has illustrated and written Osprey titles on a wide range of subjects for more than 20 years. He is an internationally respected authority on 15th and 18th century costumes in particular. He lives in Switzerland, where since 1988 he has also become well known for designing and creating life-size historical figures for museums.
Praise For American Civil War Guerrilla Tactics…
"American Civil War Guerrilla Tactics does provide a comprehensive introductory summary to the conduct of irregular warfare worthy of a prospective buyer's consideration, with some anecdotes and examples from both sides." - Civil War Books and Authors (November 2009)