British Destroyers 1892-1918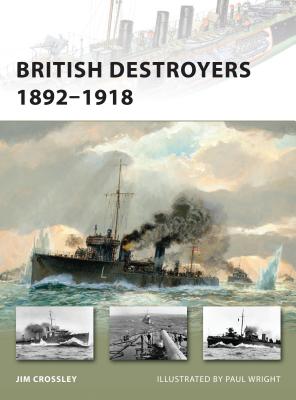 British Destroyers 1892-1918
Osprey Publishing (UK), Paperback, 9781846035142, 48pp.
Publication Date: October 20, 2009
* Individual store prices may vary.
Shop Local
Enter your zip code below to find indies closest to you.
Description
This book recounts the history of the first destroyers of the Royal Navy, which revolutionised this service and changed the way war was fought at sea. Moreover, between 1892, when the first destroyers were laid down, and 1918 destroyers evolved radically from 27 knot, 250-ton ships into 35 knot, 1,530-ton ships. All these ships were involved in some form during World War I; the smaller, original destroyers in an auxiliary support role and the newer larger destroyers at some of the greatest sea battles of the war. Indeed, this book will highlight the role destroyers played in the North Sea during the crucial battles to control the Heliogoland Bight as well as the major fleet action at the battle of Jutland in 1916. Complete with a detailed description of the technical evolution of each class of destroyer from the 27-knotters to the Tribal and Marksman classes, this book offers a complete overview of the vessels that helped to maintain Britain's supremacy at sea.
About the Author


Paul Wright, a retired bank vice-president (Industrial Relations), has 35 years experience in business development. For the past 11 years he has been director of Warrick County Employment and Training Center in Evansville, Indiana. Mr. Wright is a graduate of the Industrial Development Institute of the University of Oklahoma. He has conducted numerous workshops, seminars, and sales training sessions on job search, resumes, and job skills.
Praise For British Destroyers 1892-1918…
"[A] solid pick for such (military history) collections... Jim Crossley's British Destroyers 1892-1918, telling of new designs of the Royal Navy's destroyers and how they changed the way sea war was fought." -The Bookwatch (January 2010)

"Would I have bought this book from the title? No. Would I have bought this book if I knew how well it was done? Yes! ... I really liked this book even though I have no intention of building these ships. The topic is important for understanding evolution of naval warfare, but also as a window on technological evolution and how rapidly, and sometimes too quickly, that technology is applied to war machines. Recommended as "light reading" for naval warfare enthusiasts and erstwhile modelers of early British destroyers." -Luke R Bucci, IPMS/USA (December 2009) 

"It really is an excellent book on a most interesting subject and one that I am positive you will find to be of interest. One that will be pulled from the shelves time after time and one I can highly recommend to you." -Scott Van Aken, Modeling Madness (October 2009)