Nimitz-Class Aircraft Carriers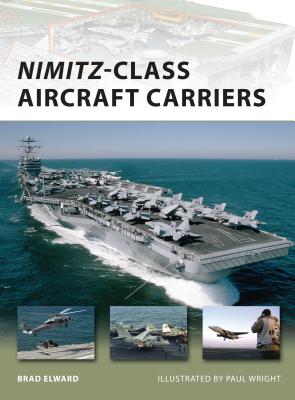 Nimitz-Class Aircraft Carriers
Osprey Publishing (UK), Paperback, 9781846037597, 48pp.
Publication Date: November 23, 2010
* Individual store prices may vary.
Shop Local
Enter your zip code below to find indies closest to you.
Description
The Nimitz class aircraft carrier is the ultimate symbol of the United States superpower status. A true behemoth, this is an unsurpassed weapons platform that overshadows all of its nearest rivals. A history of the largest aircraft carriers in the world, with runways over 300 meters long, this book looks at the development and deployment of the nuclear-powered Nimitz class aircraft carriers from 1975 when the USS Nimitz, the lead ship of the class, was commissioned, to the present day.
All of the class are still operational and the tenth and last of the class, the USS George H. W. Bush, was commissioned in 2009. Here, Brad Elward provides a detailed overview of their design and development, highlighting their unique features, from jet blast deflectors to cutting edge radar systems, and a history of the Nimitz class in service, from deployment in the Gulf during Operation Desert Storm, through to the enforcement of the no fly zone over Bosnia.
About the Author
Brad Elward has broken into aviation journalism in the past two years, having had work published in such erstwhile periodicals as World Air Power Journal. This is his first book for Osprey. Peter Davies has written or co-written nine books on modern American combat aircraft, including the standard reference work on US Navy and Marine Corps Phantom II operations, ' Gray Ghosts' . Based in Bristol, Peter is also presently working with Brad Elward on the follow-on volume on Navy F-4 MiG Killers.

Paul Wright, a retired bank vice-president (Industrial Relations), has 35 years experience in business development. For the past 11 years he has been director of Warrick County Employment and Training Center in Evansville, Indiana. Mr. Wright is a graduate of the Industrial Development Institute of the University of Oklahoma. He has conducted numerous workshops, seminars, and sales training sessions on job search, resumes, and job skills.
Praise For Nimitz-Class Aircraft Carriers…
"I would highly recommend this book to any modeler wanting reference to the aircraft carriers of the Nimitz class, or to any person who is interested in the history of aircraft carriers as a whole. The art and photography are very good ... the book is well written and informative." -Scott Hollingshead, IPMS/USA

"Elward, a published aviation historian, leads off with an excellent discussion of the origins of the Nimitz-class supercarrier, followed by a detailed description of the ship itself ... The book is filled with excellent photographs and rawings that show how the various carriers of this class developed. This is a nice reference book that aviation historians should keep handy."
-Doug Siegfried. The Hook (Summer 2012)