Jonathan Swift's Gulliver's Travels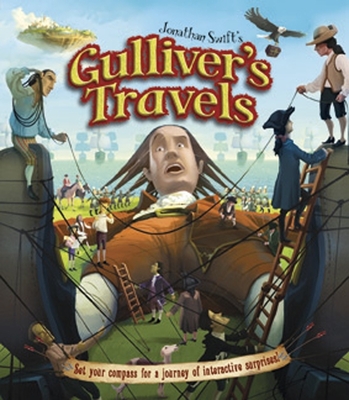 Jonathan Swift's Gulliver's Travels
Carlton Publishing Group, Hardcover, 9781847325563, 1pp.
Publication Date: December 7, 2010
* Individual store prices may vary.
Not Currently Available for Direct Purchase
or
Shop Local
Enter your zip code below to purchase from an indie close to you.
Description
After a shipwreck strands him far from home, ship's surgeon Lemuel Gulliver embarks on a series of remarkable adventures. From the tiny but fierce Lilliputians to the horselike Houyhnhnms and unruly Yahoos, the incredible things Gulliver encounters will spark children's imaginations.
Special features include:
o Gulliver's Travel Guide to the kingdoms he visits
o Mini booklet about the people and customs of Lilliput
o Flap for a pop-up traveling box
o Pull-tab flying island that moves
o Slider showing ghosts appearing
o A spectacular pop-up ship

About the Author
Born in 1667, Jonathan Swift was an Irish writer and cleric, best known for his works Gulliver s Travels, A Modest Proposal, and A Journal to Stella, amongst many others. Educated at Trinity College in Dublin, Swift received his Doctor of Divinity in February 1702, and eventually became Dean of St. Patrick s Cathedral in Dublin. Publishing under the names of Lemeul Gulliver, Isaac Bickerstaff, and M. B. Drapier, Swift was a prolific writer who, in addition to his prose works, composed poetry, essays, and political pamphlets for both the Whigs and the Tories, and is considered to be one of the foremost English-language satirists, mastering both the Horatian and Juvenalian styles. Swift died in 1745, leaving the bulk of his fortune to found St. Patrick s Hospital for Imbeciles, a hospital for the mentally ill, which continues to operate as a psychiatric hospital today.

Harriet had her first book published by Puffin when she was justtwelve. She is now an established author who has contributed toFranklin Watts' Famous People, Famous Lives series.