F-105 Wild Weasel Vs Sa-2 "Guideline" Sam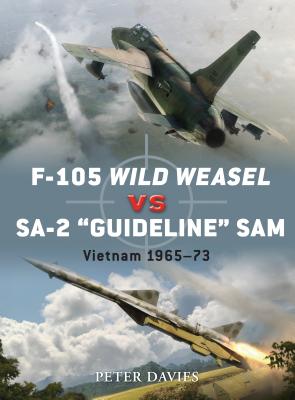 F-105 Wild Weasel Vs Sa-2 "Guideline" Sam
Vietnam 1965-73
Osprey Publishing (UK), Paperback, 9781849084710, 80pp.
Publication Date: May 24, 2011
* Individual store prices may vary.
Not Currently Available for Direct Purchase
or
Shop Local
Enter your zip code below to purchase from an indie close to you.
Description
Although America entered the Vietnam War with some of the world's most sophisticated combat aircraft, the majority of their missions involved conventional bombing and fighter engagements that employed quite similar tactics to those previously used in the Korean War and World War 2. The real step change in aerial fighting came with the use of air-to-air and ground-to-air missiles. Developing methods of defeating the latter involved the rapid evolution of technology and tactics which, over twenty years later, would enable the USA to win the air war over Iraq in Operation Desert Storm in a matter of hours.
During the Vietnam War, the appearance of Russian SA-2 missiles around Hanoi in 1965 alarmed US officials. Initially reluctant to attack the missile sites, the increasing toll of US aircraft and the ways in which the SA-2s inhibited bombing tactics meant that new methods of dealing with the sites had to be developed quickly. Electronic reconnaissance aircraft had some success with jamming of the missiles' guidance systems at long range, but the real solution lay with an aircraft that could detect the radars at closer range, offer itself as a target to the missile sites and attack them before missiles could be launched at US bombers.
F-105Fs equipped with new technology quickly became an essential addition to all USAF strike missions over North Vietnam. Using new Shrike and Standard ARM anti-radiation missiles and radar detection equipment developed by the US Navy, the F-105F and its more sophisticated successor, the F-105G, continued their hair-raising battles with North Vietnamese missile batteries throughout the rest of the Vietnam War.
Here, author Peter Davies recounts the dramatic contests between these newly outfitted F-105s and the missile sites in Vietnam in a highly illustrated account, drawing on first-hand pilot experiences and technical manuals to present a full history of the technologies and tactics of both sides.
About the Author
Peter Davies is Associate Professor at the School of Law, University of Nottingham, where his main teaching and research interests lie in international environmental law and European Union environmental law.

Jim Laurier is a native of New England and lives in New Hampshire. He attended Paier School of Art in Hamden, Connecticut, from 1974 78, and since graduating with Honours, he has been working professionally in the field of Fine Art and Illustration. He has been commissioned to paint for the US Air Force and has aviation paintings on permanent display at the Pentagon.


Praise For F-105 Wild Weasel Vs Sa-2 "Guideline" Sam…
"...the author takes a look at the design and development of both of the weapons systems, then looks at the strategic situation in which these weapons found themselves during the war. There is a section on the technical specifications of the systems, followed by a piece on the training of the combatants. Much of the book then goes on to detail the combat action between the two forces, following up with an analysis of the event and what came afterwards. All of this is superbly illustrated with maps, cutaways, and period photographs, making this edition a must-have for those interested in the combat capabilities of these two machines."
--Scott Van Aken, Modeling Madness 

"...provides a fine survey of combat aircraft used in Vietnam ... unpublished documentation and photos from North Vietnamese sources provide additional, rare references suitable for any military collection strong in Vietnam military history."
--The Midwest Book Review (August 2011)

"...makes an unusual but fascinating "Duel" subject that should appeal to more than just Vietnam veterans."
--Jon Guttman, Vietnam (August 2011)

"Davies, using first-hand interviews given by US pilots and North Vietnamese missile technicians, separates the interweaving histories of each system into clear and concise segments – while illustrating the dramatic encounters between American aircrews and Hanoi defenders."
--Rachel E. Veres, www.cybermodeler.com