Alexander the Great at War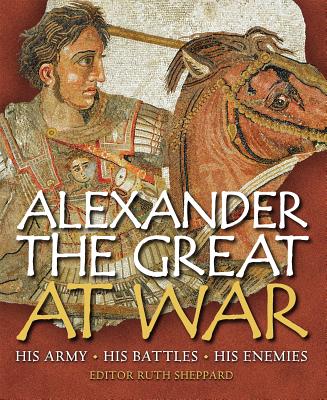 Alexander the Great at War
His Army - His Battles - His Enemies
Osprey Publishing (UK), Paperback, 9781849084802, 256pp.
Publication Date: March 22, 2011
* Individual store prices may vary.
Buy at Local Store
Enter your zip code below to purchase from an indie close to you.
or
Not Currently Available for Direct Purchase
Description
Perhaps the most famous commander of the ancient world, Alexander the Great, and his battles and victories, never cease to fascinate those with any interest in Ancient Greece. He was aged only 20 when he became king of Macedon, but he had already begun to show the military genius that would win him future victories against the mighty Persian Empire.
In an epic campaign lasting 11 years, Alexander traveled thousands of miles through deserts, plains and forests, fought huge battles, and besieged many cities to become the master of a massive empire stretching from Greece to India. He died prematurely at the age of just 33, and no man could hold together the empire he had created. A god in his lifetime, his name is still world-famous millennia after his death.
This book examines Alexander's campaigns in detail, and his victories - and the tactics that ensured them - are explained and described with the help of maps, illustrations and reconstructions to bring the epic career of one of the ancient civilization's greatest generals to life.
About the Author
The Editor, Ruth Sheppard read Ancient and Modern history at St John's College, Oxford and has an interest in all periods of history, but a particular fascination with the Roman Republic. Based at the Osprey editorial office, she works on a variety of titles, but this is the first book she has written for Osprey. The author lives in Oxford, Uk.
Praise For Alexander the Great at War…
"In a little over a decade, Alexander the Great led a combined Greek and Macedonian army and set out to conquer the known world. This latest entry by Osprey Publishing traces the leader's rise to power, his battlefield exploits, and the forces that opposed him. As with all of Osprey's books, this one is full of detailed drawings, photographs and maps to complement the text." -Military Heritage Magazine (October 2008)

"This book is recommended to the historian and the modeler...Those who do get into the book, will find that it provides all you would ever want to know about one of the key figures of history. It is a book that is well written and historically accurate. A book that I am sure you will enjoy."-Drew Nix, modelingmadness.com (July 2008)


"The richly illustrative and authoritative Alexander the Great at War examines Alexander's campaigns in detail. His victories and the tactics that ensured them are explained and described with the help of maps, illustrations and reconstructions to bring the epic career of one of the world's greatest generals to life."- SirReadaLot.org (June 2008)