Pirate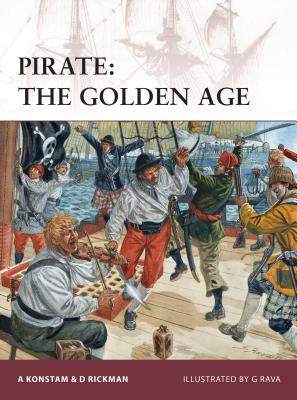 Pirate
The Golden Age
Osprey Publishing (UK), Paperback, 9781849084970, 64pp.
Publication Date: September 20, 2011
* Individual store prices may vary.
Not Currently Available for Direct Purchase
or
Shop Local
Enter your zip code below to purchase from an indie close to you.
Description
This book describes the life of a pirate of the early 18th century - the heyday of the 'Golden Age of Piracy'. It charts the way these men (and a few women) were recruited, how they operated, what they looked like and what their prospects were. In the process the book attempts to strip away many of the myths associated with piracy, to reveal the harsh realities of life beyond the normal bounds of society. The book draws on decades of research into the subject, and pulls together information from a myriad of sources, including official reports, contemporary newspaper reports, trial proceedings and court testimony, last words on the scaffold, letters, diaries and period scandal sheets. Other sources include archaeological evidence, and relevant objects and artefacts from museum collections on both sides of the Atlantic. In other words the book will reflect the last word in pirate research, making it beneficial to both the serious pirate historian and the novice apprentice.
About the Author
With over 50 history books in print, Angus is a widely recognised and much-published historian. While he specialises in military and naval history he has also written numerous more general history books, designed to make the subject more accessible to a wider audience. Uniquely he has been able to draw on his expertise as a senior museum curator who has worked on both sides of the Atlantic, as well as on his academic training as a historian and as a maritime archaeologist. His latest book is a full-length biography: Blackbeard: America's Most Notorious Pirate, which is published by Wiley & Sons. of New York (June 2006) Angus is also just finished writing a history of the Allied landings at Salerno in September 1943 for the British publisher Pen & Sword, and he is currently working on a new project, with the working title of Supership: The Quest for the Renaissance Battleship. Angus lives in Edinburgh, in Scotland.

David Rickman lives in the State of Delaware, USA. He is the exhibits coordinator for the state parks system, where his favourite project is helping to restore and furnish an American Civil War-era seacoast fortress. At other times he is a freelance illustrator specialising in historical and ethnographic subjects. His works are in the collections of the National Park Service, Parks Canada and various other museums and historic sites. The son of a US Navy aviator, Mr Rickman has lived in Japan, grew up in California and now lives in Wilmington, Delaware with his wife, Deborah.

Gordon L Rottman entered the US Army in 1967, volunteered for Special Forces and trained as a weapons specialist. He served in the 5th Special Forces Group in Vietnam in 1969-70 and in airborne infantry, patrol and intelligence. He was a special operations forces scenario writer at the Joint Readiness Training Center for 12 years and is now a freelance writer. The author lives in Cypress, Texas.
Ian Palmer is a highly experienced digital artist. A graduate in 3D design, he currently works as a senior artist for a leading UK games developer. Besides his artistic interests he is also a keen musician and motorcyclist. He lives in West London with his wife and three cats.
Born in Faenza in 1963, and from an early age taking an interest in all things military, Giuseppe Rava has established himself as a leading military history artist. Entirely self-taught, Giuseppe is inspired by the works of the great military artists, such as Detaille, Meissonier, Rochling, Lady Butler, Ottenfeld and Angus McBride. He lives and works in Italy.
Praise For Pirate…
"...Konstam and Rickman provide a marvelous and detailed assessment through explanation supported by period and first-hand examples about one decade rife with pirates. The rogues, themselves, would find this a treasure worth hoarding." -Cindy Vallar, Pirates and Privateers