Great Lakes Warships 1812-1815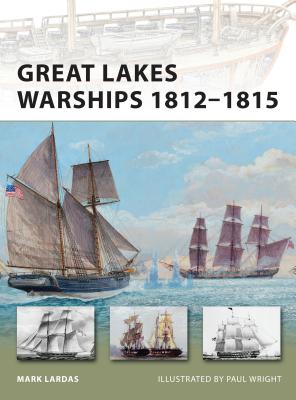 Great Lakes Warships 1812-1815
Osprey Publishing (UK), Paperback, 9781849085663, 48pp.
Publication Date: March 20, 2012
* Individual store prices may vary.
Buy Now
or
Shop Local
Enter your zip code below to purchase from an indie close to you.
Description
When war broke out in 1812, neither the United States Navy nor the Royal Navy had more than a token force on the Great Lakes. However, once the shooting started, it sparked a ship-building arms race that continued throughout the war. This book examines the design and development of the warships built upon the lakes during the war, emphasizing their differences from their salt-water contemporaries. It then goes onto cover their operational use as they were pitted against each other in a number of clashes on the lakes that often saws ships captured, re-crewed, and thrown back against their pervious owners. Released in 2012 to coincide with the 200th anniversary of the outbreak of the war, this is a timely look at a small, freshwater naval war.
About the Author
Mark Lardas is the author of numerous books on maritime and Texas history. A longtime resident of Texas, he has maintained an interest in the Texas maritime history, including shipwrecks. With generous assistance from and in cooperation with the Institute of Nautical Archeology at Texas A&M University, and numerous museums throughout the state of Texas, he has pulled together a fascinating collection of images to illustrate Texas's maritime history as seen from its shipwrecks from Cabeza de Vaca's first shipwreck in 1528 through the 21st century.

Paul M. Wright OCP has 14 years experience of Securing Oracle within the World's leading technology and financial institutions. Paul has been credited six times by the Oracle Security Patch for ethically reporting original security improvements he has discovered. Paul instructed Oracle Security for SANS.org in 2007 and has since published and presented for IOUG/UKOUG. Paul published the first book on database forensics and led the CIS 11g standard policy update. Paul's interests have expanded to include integration, availability and performance aspects and specifically how to optimise these whilst maintaining risk at acceptable levels. Paul's role as Lead Security person for the 12c Beta since March 2012 has focused new work onto securely achieving consolidation, which is the focus of his latest book for Apress.
Praise For Great Lakes Warships 1812-1815…
"Another fine volume from maritime historian, writer, modeler and reviewer Mark Lardas. The author covers the design, development and characteristics of these unusual ships in some detail...This well-planned and excellently written volume offers a very valuable reference source for any reader interested in the vessles." --Ships in Scale magazine