He 111 Kampfgeschwader in the West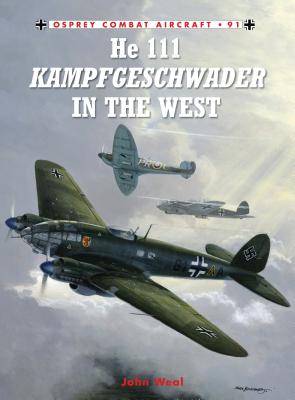 He 111 Kampfgeschwader in the West
Osprey Publishing (UK), Paperback, 9781849086707, 96pp.
Publication Date: February 21, 2012
* Individual store prices may vary.
Shop Local
Enter your zip code below to find indies closest to you.
Description
Originally designed in the mid-1930s as a fast airliner that could be easily adapted for the bombing role, the He 111 first saw action in Spain with the Legion Condor during the civil war. By the time Germany invaded Poland, more than 700 were in service with the Luftwaffe's Kampfgeschwadern, and they were used with devastating effect during the fall of Poland and France. However, the He 111 met its match during the Battle of Britain when over 240 were lost. It then became a night-time pathfinder, guiding in the bigger bombers during the Blitz. Elsewhere, He 111s filled a number of roles including acting as torpedo bombers against convoys and as reconnaissance platforms. This book charts the full story of the deployment of the He 111 in the western theatre of Word War II, including their last missions as V-1 Doodlebug launch platforms.
About the Author
John Weal is Osprey's primary Luftwaffe author and artist. He possesses one of the largest private collections of original German-language literature from World War 2 and his research is based on this huge archive. Fluent in German, Weal has spent much time establishing contact with ex-members of the Luftwaffe, from General Staff Officers of the RLM to frontline aircrew. A freelance airbrush artist since the days of the monthly RAF Flying Review, he has illustrated some of the finest Luftwaffe profiles to date. He has written three previous volumes in the Combat Aircraft series. The author lives in Berkshire, UK.
Praise For He 111 Kampfgeschwader in the West…
"A concise, easily read account of the He 111 with many crew accounts. Great gallery of aircraft profiles and photos... Fans of He 111 operations will find this a worthwhile addition to their library."
--Fred Boucher, AeroScale

"Dozens of photos and 30 color profiles – including seven of "step-nose" He 111 versions – season this solid study. The admirably indexed effort also includes informative appendices charting Heinkel unit strength in Western Europe. Recommended."
--David L. Veres, www.cybermodeler.com