British Heavy Cruisers 1939-45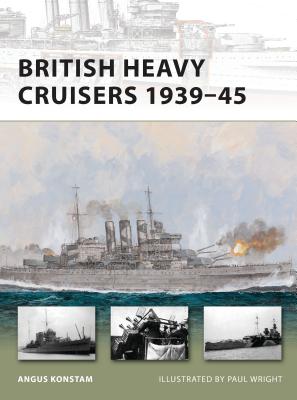 British Heavy Cruisers 1939-45
Osprey Publishing (UK), Paperback, 9781849086868, 48pp.
Publication Date: May 22, 2012
* Individual store prices may vary.
Buy Now
or
Shop Local
Enter your zip code below to purchase from an indie close to you.
Description
The idea of a heavy cruiser emerged in the aftermath of the First World War, and was closely linked to the limits set by the inter-war Washington Treaty on naval armament. The pre-Great War concept of armoured cruisers had been abandoned, but in their stead the Admiralty saw a place for powerful cruisers, able to patrol the sea lanes of the British Empire, and which were well-enough armed that they could destroy enemy commerce cruisers of the kind used by the Germans in the last war.
The result was a group of British warships which were collectively known as the "Washington Treaty Cruisers," which did everything the Admiralty wanted, but which fitted within the limits imposed by the Washington Treaty - an armament of 8-inch guns, and a displacement of less than 10,000 tons. These impressive cruisers were high-sided, spacious and stately - perfect peacetime ambassadors for British power.
In war they also packed a considerable punch. While they all carried powerful 8-inch guns, they were also given an effective armoured belt, making them proof against any foreign cruisers then in service. During the Second World War the Royal Navy's thirteen heavy cruisers saw service in every theatre of war, whether taking part in major sea battles in the Mediterranean, delivering the coup de grace to the Bismarck in the North Atlantic, or enduring the unwanted attention of kamikaze pilots in the Pacific.
About the Author
ANGUS KONSTAM is a widely published and respected military and naval historian, with numerous books to his credit. A former Royal Naval officer, maritime archaeologist and museum curator, he holds degrees from three universities, including a Masters degree from St. Andrews. Before that he studied Scottish Medieval history in Aberdeen University. He is the author of several major books, including Historical Atlas of the Medieval World, Historical Atlas of the Crusades, books about pirates, Renaissance ships and the Scottish soldier. He has given numerous public lectures in Britain, as well as in Europe and North America, and his work has been translated into several languages.He is frequently interviewed by the press in his capacity as a maritime historian, and has appeared live on both television and radio. He also made frequent appearances in television documentaries screened by the BBC and ITV, as well as the History and Discovery Channels.1.

Paul M. Wright OCP has 14 years experience of Securing Oracle within the World's leading technology and financial institutions. Paul has been credited six times by the Oracle Security Patch for ethically reporting original security improvements he has discovered. Paul instructed Oracle Security for SANS.org in 2007 and has since published and presented for IOUG/UKOUG. Paul published the first book on database forensics and led the CIS 11g standard policy update. Paul's interests have expanded to include integration, availability and performance aspects and specifically how to optimise these whilst maintaining risk at acceptable levels. Paul's role as Lead Security person for the 12c Beta since March 2012 has focused new work onto securely achieving consolidation, which is the focus of his latest book for Apress.
Praise For British Heavy Cruisers 1939-45…
"...enthusiasts will find his pithy précis an excellent introduction to this spellbinding subject."
--David L. Veres, www.cybermodeler.com