Polish Armies of the Partitions 1770-1794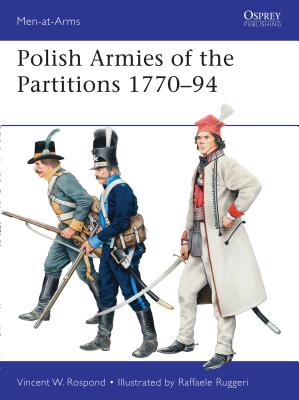 Polish Armies of the Partitions 1770-1794
Osprey Publishing (UK), Paperback, 9781849088558, 48pp.
Publication Date: January 22, 2013
* Individual store prices may vary.
Buy at Local Store
Enter your zip code below to purchase from an indie close to you.
or
Not Currently Available for Direct Purchase
Description
The tragic national epic of Polish history - its repeated foreign occupations, and its heroic but doomed rebellions - began in these late 18th-century wars. Under Poland's Saxon monarchy, Russia and Prussia constantly meddled in the affairs of the Kingdom, both exerting pressure, and subverting Polish parties to work in their favor. In 1768 a civil war broke out between pro-Russian 'Commonwealth' Poles and 'Confederate' patriots who opposed foreign intervention; Russia intervened directly, and the First Partition followed in 1772, handing large slices of Polish territory to the Kingdom's powerful neighbors Russia, Austria, and Prussia.
Guerrilla resistance continued, and anti-Russian political moves were snuffed out by a second Russian invasion in 1792, which provoked an immediate Prussian invasion, too. Following a Second Partition between Russia and Prussia in 1793, Poland's national hero Thaddeus Kosciusko - who had formerly served under Washington in the American Revolution - led a national uprising against the invaders in April 1794. After remarkable victories against the odds at Raclawice and Warsaw, the patriots were finally defeated by the combined armies of Prussia and Russia at Maciejowice. This led to the Third Partition of 1795, between Prussia, Russia, and Austria, and Poland ceased to exist as a political nation.
Featuring specially commissioned full-color illustrations, this is the epic story of Poland's doomed struggle to remain independent in the face of aggression from its neighbors in the late 18th century.
About the Author
Gaius Julius Caesar (July 100 BC - 15 March 44 BC) was a Roman general and statesman and a distinguished writer of Latin prose. He played a critical role in the gradual transformation of the Roman Republic into the Roman Empire. Much of Caesar's life is known from his own accounts of his military campaigns, and from other contemporary sources, mainly the letters and speeches of Cicero and the historical writings of Sallust. The later biographies of Caesar by Suetonius and Plutarch are also major sources. His Commentaries on the Gallic Wars is one of two of his writings that have come down to us in modern times. (editor) Vincent W. Rospond received his Master's in Eastern European History from the University of Illinois as well as studying at the Jagiellonian University in Krakow and the MBA program at Seton Hall University. He has spent almost 20 years as an executive in the publishing and gaming industry. He started Winged Hussar Publishing, LLC (WHP) was a venture for historians to publish books and articles on lesser known periods of history and give readers access to translated historical documents. His first book for WHP is a new edition of Caesar's Commentaries of the Gallic Wars. In addition to his work at WHP, he also acts as editor of the On-line Historical Learning Foundation (HOLF) newsletter, The Dispatch. His first book was Polish Armies of the Partitions 1771 - 1794 by Osprey Publishing, he has written articles on a variety of historical periods. He currently lives at the sunny New Jersey shore with his wife, kids and dog.

Alexander M. Bielakowski completed his Ph.D. in US military history at Kansas State University. He has written several articles on various aspects of military history, with a special interest in horse cavalry during the 20th Century. In 2000 he attended the West Point Summer Seminar in Military History at the United States Military Academy, and served as a historical consultant and interviewee for the History Channel documentary "Animals in Action: Horses" (2002). Dr. Bielakowski is an Associate Professor of Military History at the U.S. Army Command and General Staff College, Fort Leavenworth, Kansas. The author lives in Leavenworth, KS.
Praise For Polish Armies of the Partitions 1770-1794…
"...richly illustrated with images of Kosciuszko and other soldiers, including some in quite exotic uniforms, who fought in the doomed struggle to preserve Poland's independence in the face of aggressive neighbors."
- Toy Soldier & Model Figure (May 2013) 

"...offers a fine survey of the Polish-Lithuanian armies of the late 18th century. From their organization and their distinctions to historic battles and confrontations, this history is illustrated with a combination of rare early images and colorful artwork which brings to life the uniforms, equipment and statistics of the Polish armies. Highly recommended!"
- The Midwest Book Review (April 2013)