Italian Navy & Air Force Elite Units & Special Forces 1940-45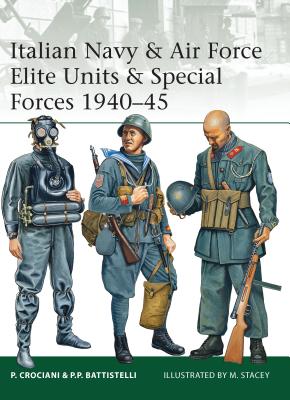 Italian Navy & Air Force Elite Units & Special Forces 1940-45
Osprey Publishing (UK), Paperback, 9781849088572, 64pp.
Publication Date: January 22, 2013
* Individual store prices may vary.
Buy Now
or
Shop Local
Enter your zip code below to purchase from an indie close to you.
Description
This volume assesses the formidable special forces fielded by Italy's navy and air force in World War II, both before and after Italy's surrender in September 1943. The Italian Navy special forces were particularly active and respected in the Mediterranean, where 10th Motor-Torpedo Boat Flotilla (Xa MAS) used frogmen, 'two-man torpedoes' and explosive ram-boats; Italian midget submarines were also deployed against the Soviet Navy in the Black Sea. After September 1943 the Germans allowed the expansion of Count Borghese's Xa MAS, which continued fighting on their side at sea and on land, most notoriously in anti-partisan operations. The marines of the 'San Marco' Regiment fought hard in North Africa, earning the respect of their opponents and the German general Hans-JUrgen von Arnim, who described them as the best soldiers he had ever commanded; they also gave birth to a paratroop-frogman section.
The Italian Air Force formed a special commando unit, ADRA (Arditi Distruttori Regia Aeronautica), before the 1943 surrender; it was tasked with attacking Allied airfields and communications in North Africa alongside the 'Loretto' Battalion, which was made up of ground crew trained to operate captured enemy airfields. Men from ADRA and diehard Army paratroopers formed the new 'Folgore' Regiment, which also continued to fight alongside German forces until 1945.
In both cases, the pro-Allied Italian forces also formed 'mirror' units to fight alongside US and British forces, including the Recce Squadron 'F', the first Italian military unit to take up arms against the Germans occupying their country, and the Mariassalto, made up of personnel from Xa MAS who fought alongside British Royal Navy special units.
Featuring rare photographs and specially commissioned artwork, this book tells the story of the little-known elite forces fielded by Italy's navy and air force in World War II, some of whose successors remain in service with today's Italian armed forces.
About the Author


Pier Paolo Battistelli earned his PhD in Military History at the University of Padua. A scholar of German and Italian politics and strategy throughout the Second World War, he is active in Italy and abroad writing titles and essays on military history subjects.

Mark Stacey and Angela Gonzalez-Hevia have now retired from a lifetime of teaching Spanish to adults at all levels and divide their time between the United Kingdom and Spain.
Praise For Italian Navy & Air Force Elite Units & Special Forces 1940-45…
"Fans of special operations and irregular warfare will love this one."
- David L. Veres, www.cybermodeler.com (February 2013)

"The spotlight shines on some relatively little-known military men in Italian Navy & Air Force Elite Units & Special Forces 1940-45. Co Authors Piero Crociani and Pier Paolo Battistellin examine units that were regarded as being formidable. Fine artwork by Mark Stacey and some photographs that are considered rare illustrate the intriguing story of these elite Italian units."
-Toy Soldier & Model Figure

"The authors cover the full spectrum of these troops and a goodly portion of the book delves on the 10th MAS with their manned torpedoes and attack boats as they were the ones with the greatest success. As the Elite series is as much a uniforms and troops weapons/equipment book as anything most of the photos concentrate on that aspect of things. There are the usual superb full color plates to go along with this, so those who are figure modelers will find much interest in this title. I learned a great deal I did not know from this book and found it to be not only an interesting read, but a look into what could have been. It is one I can easily recommend to you for a look at a little known aspect of Italian military history."
- Scott Van Aken, Modeling Madness (April 2013)

"This coverage uses vintage rare wartime photos and new color pictures of uniforms and equipment to narrow the focus on the unit's many achievements, with M. Stacey's illustrations making this a key survey for any World War II military collection."
- James A. Cox, The Midwest Book Review (June 2013)