The Book with a Hole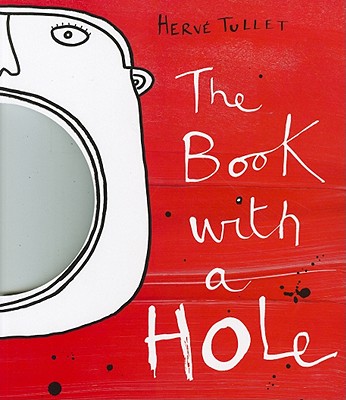 The Book with a Hole
Tate Publishing & Enterprises, Paperback, 9781854379467, 96pp.
Publication Date: February 2011
* Individual store prices may vary.
Shop Local
Enter your zip code below to find indies closest to you.
Description
The Book with a Hole blasts a hole through the middle of the book itself. Sometimes the hole is an eye the reader can look through; sometimes it is a mouth and the reader's fingers make the teeth! The next minute it is a plate (with food drawn by the reader on a sheet of paper behind the book), an obstacle to jump across, or a saucepan. It's crazy! It's a Book with a Hole! 

Packed full of Hervé Tullet's zany drawings and inventive ideas, this is bound to enchant children of all ages.

Praise for The Book with a Hole
« "Deliciously interactive and profoundly immersive, this book provides rich imaginative play from cover to cover. Most apps have a long way to go before they will be as artful and engaging as this interactive wonder." –Kirkus Reviews, starred review

"Tullet's simple innovation allows readers to become active participants in the experience of reading." –Publishers Weekly
About the Author
Laura Hambleton is the author and illustrator of "I'm Afraid Too!," "Welcome to the Lizard Lounge," "Chameleon Swims," and "Chameleon Races," the coauthor of "Telling Tails" and "Strawberry Bullfrog," and the illustrator of "Telling Tails, How Bees Be," "English with Abby and Zak," "French with Abby and Zak," and "Ece ve Efe ile Turkce," Sedat Turhan is the creator of the "Milet Picture Dictionary," "Milet Mini Picture Dictionary," and the Milet Flashwords series and is the founding director of Milet. He lives in Chicago. Herve Tullet is the author and illustrator of numerous children's books, including "Alphabet Poem," "Blue & Square," "The Five Senses," "Yellow & Round," "Night and Day," and "Pink Lemon."