The NVA and Viet Cong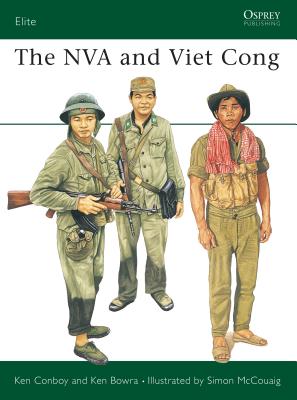 The NVA and Viet Cong
Osprey Publishing, Paperback, 9781855321625, 64pp.
Publication Date: January 30, 1992
* Individual store prices may vary.
Buy at Local Store
Enter your zip code below to purchase from an indie close to you.
or
Not Currently Available for Direct Purchase
Description
In 1940 Japan placed Vietnam under military occupation, restricting the local French administration to a figurehead authority. Seizing the opportunity, the Communists organised a Vietnamese independence league, the Viet Minh, whose armed forces became known as the PAVN (more commonly known to the West as the Vietcong, or NVA) and prepared to launch an uprising against the French at the war's end. This text details the history, organisation and uniforms of the People's Army of Vietnam from its origins in the fight against colonialism, through two separate wars against the US and Khmer Rouge, to its role in the modern era.
About the Author
Ken Conboy was educated as an undergraduate at Georgetown University and took his graduate studies at Johns Hopkins University. He also studied at Sophia University in Tokyo. He is the Deputy Director of the Asian Studies Centre, a Washington-based think tank, which studies US strategic and economic policy towards South-East Asia, and he has travelled extensively in that region. Ken has written widely on the military forces of South-East Asia including two titles in the Men-at-Arms series on the wars in Laos and Cambodia, and Elite 33, South-East Asian Special Forces.