Anglo-Saxon Thegn Ad 449 1066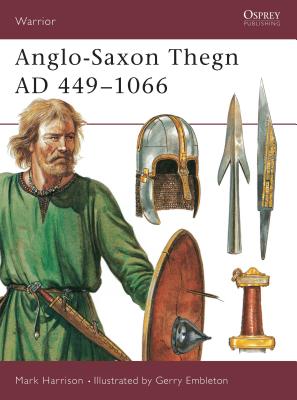 Anglo-Saxon Thegn Ad 449 1066
Osprey Publishing (UK), Paperback, 9781855323490, 64pp.
Publication Date: November 25, 1993
* Individual store prices may vary.
Buy at Local Store
Enter your zip code below to purchase from an indie close to you.
or
Buy Here
Description
The collapse of Roman rule in Britain was not so much a sudden catastrophe as a long and drawn-out decline. The 'Celtic' Britons retreated gradually to the highland areas of Wales, Cornwall and the south-west of Scotland. Control of the fertile eastern lowlands was lost to warriors of Germanic origin who migrated from the Continent. These Germanic conquerors have become known to history as the 'Anglo-Saxons'. They were to dominate the lowland zone of Britain until their final defeat at Hastings in 1066. This title gives an insight into the everyday life, equipment, dress, battle tactics and life on campaign of the typical Anglo-Saxon warrior of this period - the thegn.
About the Author
Mark Harrison is professor of economics, University of Warwick; honorary senior fellow of the Centre for Russian and East European studies, University of Birmingham; and distinguished visiting fellow of the Hoover Institution on War, Revolution, and Peace, Stanford University. He lives in Coventry, UK.




Gerry Embleton has been a leading illustrator and researcher of historical costume since the 1970s, and has illustrated and written Osprey titles on a wide range of subjects for more than 20 years. He is an internationally respected authority on 15th and 18th century costumes in particular. He lives in Switzerland, where since 1988 he has also become well known for designing and creating life-size historical figures for museums.