M3 Infantry Half-Track 1940-73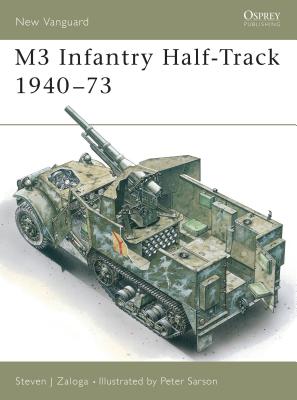 M3 Infantry Half-Track 1940-73
Osprey Publishing (UK), Paperback, 9781855324671, 48pp.
Publication Date: January 1995
* Individual store prices may vary.
Shop Local
Enter your zip code below to find indies closest to you.
Description
As armoured warfare tactics matured, mechanised infantry became a key ingredient in what is now called 'combined arms' doctrine. For the US Army of World War 2, the most important technical aspect of infantry mechanisation was the development of the M3 half-track personnel carrier. Steven Zaloga guides the reader through the early 1930s development of the half-track, its first deployment in action in the Philippines in 1941 and its varied and vital role in international deployments since World War 2. This authoritative text also examines the operators of half-tracks and the troops that they carried.
About the Author
Steven J. Zaloga received his BA in history from Union College and his MA from Columbia University. He has worked as an analyst in the aerospace industry for over two decades, covering missile systems and the international arms trade, and has served with the Institute for Defense Analyses, a federal think-tank. He is the author of numerous books on military technology and military history, with an accent on the US Army in World War II as well as Russia and the former Soviet Union. The author lives in Abingdon, Maryland.



Peter Sarson has produced graphic cutaways for many armoured vehicle publications, and is regarded as one of the world's great illustrators of military vehicles. Peter lives and works in Dorset.