The Rhineland 1945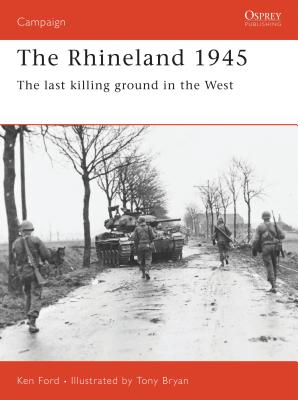 The Rhineland 1945
Osprey Publishing (UK), Paperback, 9781855329997, 96pp.
Publication Date: October 25, 2000
* Individual store prices may vary.
Not Currently Available for Direct Purchase
or
Shop Local
Enter your zip code below to purchase from an indie close to you.
Description
Known as the last great 'stand-up fight' of the Second World War (1939-1945), the battle for the Rhineland was brutal in the extreme. Eisenhower's 'broad front' policy called for the whole of the Rhineland to be taken before pushing his troops across the Rhine and into Germany itself. The Germans opened the Roer dams in a vain bid to temper this massive Allied offensive and this called for a drastic change in tactics. The ensuing battle was characterised by amphibious assaults on the fortified villages of the flooded Rhine lowlands, frontal assaults on the much vaunted Siegfried Line and the grim fighting for the Reichswald Forest. It was to be 'the last great killing ground in the west'.
About the Author
Ken Ford was born in Hampshire in 1943. He trained as an engineer and spent almost thirty years in the telecommunications industry. He now spends his time as an author and a bookseller specialising in books in military history. He has written a number of books on various Second World War subjects.

Ken Ford was born in Hampshire in 1943. He trained as an engineer and spent almost thirty years in the telecommunications industry before a change in career led him to become a full time military historian. He is the author of over twenty books on various aspects of World War II including "Campaign 158 El Alamein," Ken now lives in Southampton, UK. The author lives in Southampton, UK.
John White is a commercial illustrator with many years' experience of working with advertising agencies, design firms, publishers and large corporate accounts. He has received awards from The Broadcast Design Association and The National Naval Aviation Museum, and his paintings have appeared in "Aviation Art" magazine, "Aviation History" magazine, and on the History Channel. John White lives in Charlotte, North Carolina.

Innes McCartney is an historian and nautical archaeologist, specializing in 20th-century naval vessels. He lectures widely on a number of associated subjects. A passion for shipwrecks has led to some famous discoveries, including the submarine M1 and the battlecruiser "HMS Indefatigable," His previous book, "Lost Patrols" detailed his uncovering the 121 submarines sunk in the English Channel. His own underwater photography illustrates this book. The author lives in Cornwall, UK.
Tony Bryan is a freelance illustrator of many years' experience who lives and works in Dorset. He initially qualified in Engineering and worked for a number of years in Military Research and Development, and has a keen interest in military hardware - armor, small arms, aircraft and ships. Tony has produced many illustrations for partworks, magazines and books, including a number of titles in the New Vanguard series. Tony Bryan lives in Dorset, UK.