The Quest for Speed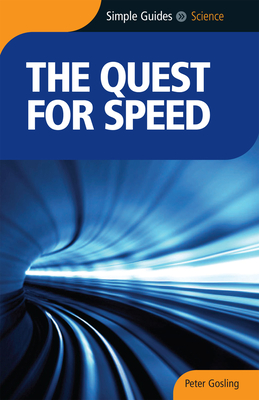 The Quest for Speed
Kuperard, Paperback, 9781857334968, 168pp.
Publication Date: November 17, 2009
* Individual store prices may vary.
Buy at Local Store
Enter your zip code below to purchase from an indie close to you.
or
Not Currently Available for Direct Purchase
Description
Man's quest for speed is driven by two ambitions. One is the competitive urge to excel to go as fast as possible by any available means, and preferably to go faster than anybody else. The other, more practical, aim is to make travel and transport as swift and efficient as possible. The two are closely linked, since by pushing technology to the limit to achieve the first, we improve performance in the second, with results that continue to shrink the world. In this book Peter Gosling tells the fascinating story of the key scientific discoveries and technological breakthroughs in our drive to conquer distance from our earliest crude efforts using animal power and the wheel, to harnessing the wind and the waves, on through the watershed of the Industrial Revolution, rail and steam, the invention of the internal combustion engine, through powered flight to rocketry, and on to space travel. We look at developments on land, sea, and air, and the novel green solutions that scientists are exploring in order to meet today's environmental challenges. Along the way we meet some of the remarkable men and women behind these breakthroughs, whose vision and determination have helped to shape the modern world. Written in an engaging, non-technical style, The Quest for Speed captures both the thrill of the race and the adventure of science, and points to the social and cultural changes ahead as technology accelerates the pace of life and transforms the human landscape. SIMPLE GUIDES: SCIENCE Simple Guides: Science are user-friendly introductions to the great scientific discoveries of the world. Written by experts in the field, they offer the general reader simple and engaging descriptions of key developments and breakthroughs in different fields of science and technology. Simple Guides: Science are written in a clear, informal style, using plain, non-technical language to provide accessible introductions to complex scientific theories. Organized both by theme and chronologically, the books link the major breakthroughs to the lives of their discoverers and inventors. The clear structure and design enable the general reader to grasp essentials easily. These guides will appeal to readers with no specific scientific knowledge, yet with a thirst to know more about the world we live in. The scientific developments and theories are brought to life by descriptions of their social contexts; not only the breakthroughs are described, but also their impact on society and the human story behind the scientists.
About the Author
Peter Gosling is an English mathematics graduate and writer who spent thirty-two years as a lecturer working in further education and at the Open University. In the 1970s and 80s he was heavily involved in the development of computer education in Cambridgeshire. On retiring he concentrated initially on writing books on computing techniques and running computer training courses, publishing over thirty books on computer programming, many of which were translated into a variety of languages. He also found time to write short stories, which he has read on local radio, and to contribute articles on general topics to a number of airline magazines and specialist publications. He has covered subjects as diverse as women s football, gliding, motor racing, and his greatest interest, aviation history. He is married with two children, and his daughter, who lives abroad, persuaded him to write his latest book, entitled How to be a Global Grandparent."