Revolution at the Gates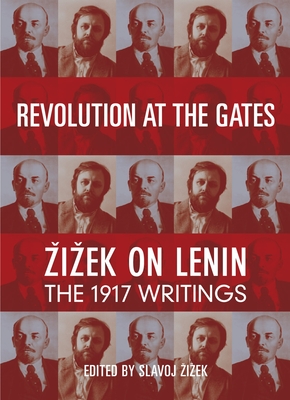 Revolution at the Gates
Zizek on Lenin: The 1917 Writings
Verso, Paperback, 9781859845462, 356pp.
Publication Date: June 17, 2004
* Individual store prices may vary.
Buy at Local Store
Enter your zip code below to purchase from an indie close to you.
or
Buy Here
Description
The idea of a Lenin renaissance might well provoke an outburst of sarcastic laughter. Marx is OK, but Lenin? Doesn t he stand for the big catastrophe which left its mark on the entire twentieth-century?
Lenin, however, deserves wider consideration than this, and his writings of 1917 are testament to a formidable political figure. They reveal his ability to grasp the significance of an extraordinary moment in history. Everything is here, from Lenin-the-ingenious-revolutionary-strategist to Lenin-of-the-enacted-utopia. To use Kierkegaard's phrase, what we can glimpse in these writings is Lenin-in-becoming: not yet Lenin-the-Soviet-institution, but Lenin thrown into an open, contingent situation.
In "Revolution at the Gates," Slavoj i ek locates the 1917 writings in their historical context, while his afterword tackles the key question of whether Lenin can be reinvented in our era of cultural capitalism. i ek is convinced that, whatever the discussion the forthcoming crisis of capitalism, the possibility of a redemptive violence, the falsity of liberal tolerance Lenin's time has come again.
About the Author
V. I. Lenin (18701924) was a leader of the Russian Revolution and wrote extensively on the issues facing the working-class movement of his time.



Slavoj i ek is a senior researcher at the Institute of Sociology, University of Ljubljana, Slovenia, and has been a visiting professor at Columbia University, Princeton, and The New School. He is the author of more than thirty books and is the subject of the documentary, " i ek". His own critically acclaimed documentary, "The Pervert's Guide to Cinema", was the subject of a film retrospective in 2007 at the Museum of Modern Art.
Praise For Revolution at the Gates…
"A return to Marx may be acceptable today ... But a repetition of Lenin? ... Perhaps Žižek's return to Lenin is merely tactical, figurative even. He can't be serious, can he? ... Žižek claims that Lenin's act, 'his choice,' continues to speak to those of us on the left today. Faced with our current conceptual deadlock, we must have the courage, the nerve, to risk isolation, self-annihilation even, in order to ofeer a real alternative to the false oppositions recuperated by and churned out for our consumption by the image industry of late capitalism ... The postmodernists and liberal multiculturalists, today's Bernsteins and Kautskys—our contemporary Plekhanovs and Martovs, beware!" —Bad Subjects