New York Calling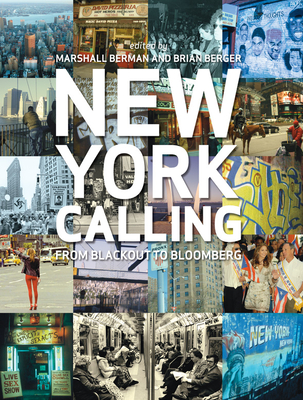 New York Calling
From Blackout to Bloomberg
Reaktion Books, Paperback, 9781861893383, 368pp.
Publication Date: September 15, 2007
* Individual store prices may vary.
Buy at Local Store
Enter your zip code below to purchase from an indie close to you.
or
Buy Here
Description
Anyone who knew New York in the 1970s knows it was a different city from
that of today. "New York Calling" is like a Rough Guide to a city receding into
a dim past but now brought startlingly, evocatively to life by the amazing
group of writers assembled by Marshall Berman and Brian Berger.
Francis Morrone, author of "The Architectural Guidebook to New York City"
New York City in the 1970s was the setting for "Taxi Driver," "Annie Hall," and "Saturday Night Fever," the nightmare playground for Son of Sam and "The Warriors," the proving grounds for graffiti, punk, hip-hop, and all manner of other public spectacle. Musicians, artists, and writers could subsist even in Manhattan, while immigrants from the world over were reinventing the city in their own image. Others, fed up with crime, filth and frustration, simply split.
Fast-forward three decades and today New York can appear a glamorous metropolis, with real estate prices soaring higher than its skyscrapers. But is this fresh-scrubbed, affluent city really an improvement on its grittier and more affordable predecessor? Taking us back to the streets where eccentricity and anomie were pervasive, "New York Calling" unlocks life in the unpolished Apple, where, it seemed, anything could happen. All five boroughs the Bronx, Brooklyn, Manhattan, Queens, and Staten Island comprising hundreds of neighborhoods and the interlaced worlds of politics, crime, drugs, sex, and mischief, are explored with a love of the city unclouded by romance yet undimmed by cynicism.
Acclaimed historian Marshall Berman and journalist Brian Berger gather here a stellar group of writers and photographers who combine their energies to weave a rich tale of struggle, excitement, and wonder. John Strausbaugh explains how Uptown has taken over Downtown, as Tom Robbins examines the mayors and would-be mayors who have presided over the transformation. Margaret Morton chronicles the homeless, while Robert Atkins offers a personal view of the city's gay culture and the devastating impact of aids. Anthony Haden-Guest and John Yau offer insiders views of the New York art world, while Brandon Stosuy and Allen Lowe recount their discoveries of the local rock and jazz scenes. Armond White and Leonard Greene approach African-American culture and civil rights from perspectives often marginalized in so-called polite conversation.
Daily life in New York has its dramatic moments too. Luc Sante gives us glimpses of a city perpetually on the grift, Jean Thilmany and Philip Dray share secrets of Gotham's ethnic enclaves, Richard Meltzer walks, Jim Knipfel rides the subways, and Robert Sietsema criss-crosses the city, indefatigably tasting everything from giant Nigerian tree snails to Fujianese turtles.
It's a long way from old Brooklyn to the new Times Square. But "New York Calling" reminds us of what has changed and what's been lost along the way.
About the Author
The lateMarshall Bermanwas a distinguished professor of political science at the City College of New York. He was a member of the editorial board of Dissent and had written in the New York Times, Village Voice, Dissent, The Nation, and New Left Review, among other publications. His books include The Politics of Authenticity: Radical Individualism and the Emergence of Modern Society (2009), On the Town: One Hundred Years of Spectacle in Times Square (2009), and the groundbreaking All That Is Solid Melts Into Air: The Experience of Modernity (1988).

Marshall Berman is the Distinguished Professor of Political Science at City College of New York and CCNY Graduate Center, where he teaches political theory and urban studies. He is also the author of "On The Town: One Hundred Years of Spectacle in Times Square" and "All That Is Solid Melts into Air: The Experience of Modernity," Born and raised in the Bronx, he lives in Manhattan with his family.
Brian Berger is a poet, journalist, and photographer who remembers the view of Playland from the terrace of his grandparents' apartment in Rockaway Beach, Queens. He's written about music for" Forced Exposure, the Austin Chronicle" and "Geek Weekly," and his verse has appeared at jargonbooks.com and elsewhere. His own dark hollow is whowalkinbrooklyn.com.
Praise For New York Calling…
"Anyone who knew New York in the 1970s knows it was a different city from that of today. New York Calling is like a Rough Guide to a city receding into a dim past but now brought startlingly, evocatively to life by the amazing
group of writers assembled by Marshall Berman and Brian Berger."––Francis Morrone, historian and author of The Architectural Guidebook to New York City
 
 

-Francis Morrone

"Original essay collections are landmines of missed opportunity––nobody''s perfect every time, and assigning editors are stuck with what they''re handed. So the success ratio is miraculous here as writers of vastly varying celebrity weigh in on the fate of teeming, polyglot New York City in a rich-get-richer world. For once all five boroughs are accounted for, and a heartening proportion of the contributors still find hope in a place where almost no one under forty can afford the rent. Readable, intelligent, and full of facts not even Marshall Berman knew." ––Robert Christgau  
-Robert Christgau

"New York Calling gives us the New York that doesn''t get into the guidebooks--or the history books. With tour guides like Luc Sante, Tom Robbins, and editors Berman and Berger, we can count on an eye-opening journey through a more rough and tumble city, full of problems but bursting with messy life."--Geoffrey O''Brien, author of Sonata for Jukebox



 


-Geoffrey O'Brien

"Gotham's a Rip Van Winkle city. Always has been. In 1856, Harper''s Monthly claimed New York 'is never the same city for a dozen years together,' and that after forty years a visitor would find 'nothing, absolutely nothing, of the New York he knew.'  But even Rip would be flabbergasted had he fallen asleep in the 1977 blackout and woken up today. New York Calling's perceptive reports and evocative reminiscences vividly recreate the all but vanished city of the '70s—dangerous, broke, aflame, in ruins, but also hip, vital, creative, rebellious—and trace the astonishing transformations wrought over the intervening decades. By turns tender and irate, whimsical and reflective, it''s a great guide to Gotham's recent history."—Mike Wallace, co-author of the Pulitzer Prize-winning Gotham: A History of New York City to 1898 and founder of the Gotham Center for New York City History   
-Mike Wallace

"Berman (On the Town: One Hundred Years of Spectacle) establishes the personal tone of this collection of original essays in his introduction, recalling how New York City''s very special form of peace, harmony, and democracy . . . had unraveled in the 1970s and ''80s. The bonding of firsthand recollection to broader historical issues continues throughout the anthology. . . . With 230 photographs sprinkled throughout, this multivoiced collection establishes itself as a unique document of the city''s last three decades."—Publishers Weekly

"An exacting look at the state of the city after thirty-five excruciating years of civil war. . . . We emerge with a terrific sense of immigrant muscle, ethnic flavor, and multicultural diversity as a big city's jumping beans."—John Leonard, Harper's
 

-John Leonard

"A mind-opening collection. . . . Through the lens of New York politics, music, art and counterculture, we hear several, often fascinating takes on essentially the same story: how the squalor, struggles, crime, drugs, and free expression of the 1970s and 1980s gave way to a cleaner and safer city in the subsequent two decades, but one in which commercial development has often trumped protecting existing residents and preserving a rich past. . . . The essays, whether read discretely or as a complete work, offer a near unforgettable impression of an era."—Financial Times  
-Jason Warshof

"This new book that he and Marshall Berman edited, New York Calling (Reaktion Books) is really a great anthology. Everybody we talk to who remembers New York before it became a fucking Disney subsidiary moans about the current lack of soul on Gotham''s streets. It''s not easy to say exactly why we loved the place more when it was a mess and a disaster, but it''s clear we do. There was a crazy vibrancy to the town that has clearly gone missing in the new Trump era. New York Calling collects essays by a swell bunch of writers - from Jim Knipfel to Richard Meltzer to Tom Robbins to Robert Sietsema - all of whom memorialize things and people and places that seem to have been lost forever. It''s a wonderful read, and brings the scent of five day old garbage to our snoots like nothing else we can think of. Breathe deep."--Byron Coley and Thurston Moore, Arthur Magazine 
-Byron Coley and Thurston Moore

"With Rudy running for President and Hilly Kristal dead, the timing couldn't be better for New York Calling: From Blackout to Bloomberg. This fascinating, enlightening and sometimes irritating collection of essays pokes through the rubble of the past three decades and asks: What is the Apple without its worms—without its grifters, goombahs, B-boys, bohos and bums?"—Time Out New York

-Brian Braker

"Berman does an excellent job narrating the spectacular decline and just as spectacular resurgence of his hometown and the subsequent essays, mostly by fellow New Yorkers, grapple with the many contradictions inherent in this story. The dirty, drug-addled, debt-ridden Gotham of 30 years ago is gone--thankfully--but in its place is a city that feels a little less vital, a little more ordinary, and a lot more expensive."--Metropolis Magazine  
-Mason Currey

"Fascinating collection of essays . . . The essays often suggest that the real New York is to be found in Brooklyn or Queens, but prefer to focus on Manhattan, usually in tones of rueful melancholy or savage disgust. . . . The deregulated, liberatingly anonymous city to which generations of outsiders flocked in order to lose themselves is morphing into something altogether safer and tidier. It makes for comfortable living. But at what cost to New York''s soul?"--Daily Telegraph 
-Sukhdev Sandhu

"Many of the 28 contributors to New York Calling: From Blackout to Bloomberg seesaw between lionizing the lunacy that characterized the city during those years—some of us euphemistically described the mood as ''vibrant''—and dismissing the latest incarnation of New York as antiseptic. . . . Often revealing and almost always poignant."—Sam Roberts, New York Times 
-Sam Roberts