In God's Name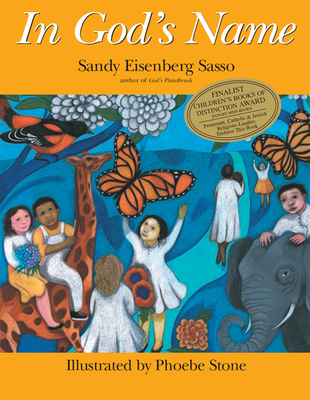 In God's Name
Jewish Lights Publishing, Hardcover, 9781879045262, 32pp.
Publication Date: September 2004
* Individual store prices may vary.
Buy Now
or
Shop Local
Enter your zip code below to purchase from an indie close to you.
Description
Multicultural, Nonsectarian, NondenominationalEndorsed by Protestant, Catholic, and Jewish Religious Leaders
Finalist, Children's Books of Distinction Award Hungry Mind ReviewA Children's Book Council Not Just for Children Anymore SelectionRecommended by Parent Council
Everyone and everything in the world has a name. What is God's name?
In poetic text and vibrant illustrations, this modern fable celebrates the diversity and, at the same time, the unity of all people.
"God must have a single name this greater and more powerful than all other names." All the people of the world set out to find God's name and each of the many seekers is sure that he or she alone has found the right name, the only name, for God. Finally, they come together and at last learn what God's name really is.
In God's Name is a spiritual celebration of all people of the world and their belief in one God.
About the Author
Rabbi Sandy Eisenberg Sasso, a parent, spiritual leader and storyteller, is the award-winning author of God's Paintbrush, In God's Name, God In Between and many other inspiring books for children of all faiths and backgrounds. The second woman to be ordained as a rabbi (1974) and the first rabbi to become a mother, she and her husband, Dennis, were the first rabbinical couple to jointly lead a congregation Beth-El Zedeck in Indianapolis. They have two children, David and Debora, and three grandchildren. Sasso, who holds a doctorate in ministry, is active in the interfaith community, and has written and lectured on the renewal of spirituality and the discovery of the religious imagination in children of all faiths.
Rabbi Sandy Eisenberg Sasso is available to speak on the following topics: Nurturing the Spiritual Imagination of ChildrenTell Me a Story: Reading the Bible and the Religious Imagination of ChildrenFilling in the Blanks: How Women Read the BibleWomen and Judaism: A Personal JourneyMidrash as a Tool for Spiritual Reflection
Click here to contact the author.
Phoebe Stone, a graduate of Rhode Island School of Design, is an award-winning artist who has received two Council on the Arts fellowships for painting. Her work has been exhibited widely and appears in many corporate and private collections. Her books include When the Wind Bears Go Dancing, What Night Do the Angels Wander and All the Blue Moons at the Wallace Hotel.