Thomas Paine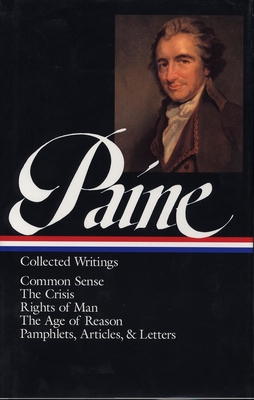 Thomas Paine
Collected Writings: Common Sense / The American Crisis / Rights of: (Library of America #76)
Library of America, Hardcover, 9781883011031, 906pp.
Publication Date: March 1, 1995
* Individual store prices may vary.
Buy at Local Store
Enter your zip code below to purchase from an indie close to you.
or
Buy Here
Description
Thomas Paine was the impassioned democratic voice of the Age of Revolution, and this volume brings together his best-known works: Common Sense, The American Crisis, Rights of Man, The Age of Reason, along with a selection of letters, articles and pamphlets that emphasizes Paine's American years. I know not whether any man in the world, wrote John Adams in 1805, has had more influence on its inhabitants or affairs for the last thirty years than Tom Paine. The impassioned democratic voice of the Age of Revolution, Paine wrote for his mass audience with vigor, clarity, and common sense. This Library of America volume is the first major new edition of his work in 50 years, and the most comprehensive single-volume collection of his writings available. Paine came to America in 1774 at age 37 after a life of obscurity and failure in England. Within fourteen months he published Common Sense, the most influential pamphlet for the American Revolution, and began a career that would see him prosecuted in England, imprisoned and nearly executed in France, and hailed and reviled in the American nation he helped create. In Common Sense, Paine set forth an inspiring vision of an independent America as an asylum for freedom and an example of popular self-government in a world oppressed by despotism and hereditary privilege. The American Crisis, begun during the times that try men's souls in 1776, is a masterpiece of popular pamphleteering in which Paine vividly reports current developments, taunts and ridicules British adversaries, and enjoins his readers to remember the immense stakes of their struggle. Among the many other items included in the volume are the combative Forester letters, written in a reply to a Tory critic of Common Sense, and several pieces concerning the French Revolution, including an incisive argument against executing Louis XVI. Rights of Man (1791 1792), written in response to Edmund Burke's attacks on the French Revolution, is a bold vision of an egalitarian society founded on natural rights and unbound by tradition. Paine's detailed proposal for government assistance to the poor inspired generations of subsequent radicals and reformers. The Age of Reason (1794 1795), Paine's most controversial work, is an unrestrained assault on the authority of the Bible and a fervent defense of the benevolent God of deism. Included in this volume are a detailed chronology of Paine's life, informative notes, an essay on the complex printing history of Paine's work, and an index.
About the Author
English-born Thomas Paine left behind hearth and home for adventures on the high seas at nineteen. Upon returning to shore, he became a tax officer, and it was this job that inspired him to write The Case of the Officers of Excise in 1772. Paine then immigrated to Philadelphia, and in 1776 he published Common Sense, a defense of American independence from England. After returning to Europe, Paine wrote his famous Rights of Man as a response to criticism of the French Revolution. He was subsequently labeled as an outlaw, leading him to flee to France where he joined the National Convention. However, in 1793 Paine was imprisoned, and during this time he wrote the first part of The Age of Reason, an anti-church text which would go on to be his most famous work. After his release, Paine returned to America where he passed away in 1809.

Eric Foner is DeWitt Clinton Professor of History at Columbia University and the author of several books. In 2006 he received the Presidential Award for Outstanding Teaching at Columbia University. He has served as president of the Organization of American Historians, the American Historical Association, and the Society of American Historians. He lives in New York City.