Basketball Made Simple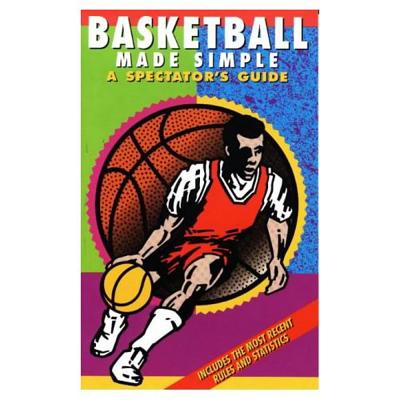 Basketball Made Simple
A Spectator's Guide
First Base Sports, Paperback, 9781884309076, 129pp.
Publication Date: January 2010
* Individual store prices may vary.
Shop Local
Enter your zip code below to find indies closest to you.
Description
This easy-to-read guide, filled with illustrations and action photographs, contains everything for the fan and non-fan alike to understand and enjoy the sport of basketball. Each section stands alone, so it can be used as a handy reference guide, and it is so lightweight it can easily be taken to games. The book includes: - The Rules of Basketball Simplified - What to Look For During Play - Statistics Explained - The NBA Draft - The Road to the NCAA Final Four - College Rule Differences - Stars and Great Teams -- Past and Present - A Complete Glossary The popularity of basketball has exploded over the last decade or so. Attendance has doubled and annual merchandise sales are now approaching $3 Billion Yet many people still do not grasp the basics of the sport. This handy spectator guide will help you better understand the game so you can discover why basketball is America's fastest growing team sport.
About the Author


P.J. Harari and Dave Ominsky co-authored this book while pursuing their MBAs at the Anderson Graduate School of Management at UCLA. However, it was while working as an attorney prior to enrolling in business school that Harari first came upon the idea for a Spectator Guide. Her clients often conducted business meetings at basketball or hockey games and she spent her time feigning interest or pretending to understand what was going on.Harari went in search of a book of rules hoping to solve her dilemma. Surely the local library would have something, she thought, or perhaps a local bookstore. But she had no luck. She resorted to teaching herself football by watching games on television, weekend after weekend of sitting alone in her living room. Harari did the same with hockey and basketball. And as her expertise grew, she was visited by peers, male and female alike, who would close her office door and quietly confide that they knew nothing about sports and desperately needed or want