The Jungle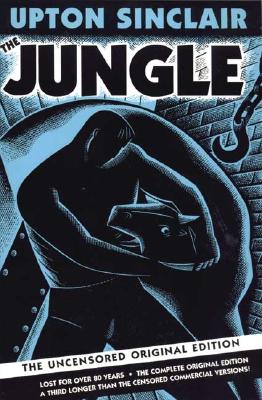 The Jungle
The Uncensored Original Edition
See Sharp Press, Paperback, 9781884365300, 352pp.
Publication Date: April 1, 2003
* Individual store prices may vary.
Buy Now
or
Shop Local
Enter your zip code below to purchase from an indie close to you.
Description
For nearly a century, the original version of Upton Sinclair's classic novel has remained almost entirely unknown. When it was published in serial form in 1905, it was a full third longer than the censored, commercial edition published in book form the following year. That expurgated commercial edition edited out much of the ethnic flavor of the original, as well as some of the goriest descriptions of the meat-packing industry and much of Sinclair's most pointed social and political commentary. The text of this new edition is as it appeared in the original uncensored edition of 1905. It contains the full 36 chapters as originally published, rather than the 31 of the expurgated edition. A new foreword describes the discovery in the 1980s of the original edition and its subsequent suppression, and a new introduction places the novel in historical context by explaining the pattern of censorship in the shorter commercial edition.
About the Author
Upton Sinclair (1878-1968), novelist and journalist, is best known for his novel about the Chicago meatpacking industry, ""The Jungle"." A paperback edition of his ""I, Candidate for Governor"" is available from California. Jules Tygiel is the author of ""The Great Los Angeles Swindle: Oil, Stocks, and Scandal during the Roaring Twenties"" (paperback California, 1996) and ""The Great Experiment: Jackie Robinson and His Legacy"." He is Professor of History at San Francisco State University.

Earl Lee is a professor at Pittsburg State University and the author of several books, including Raptured, Drakulya, and Libraries in the Age of Mediocrity. He lives in Pittsburg, Kansas.


Praise For The Jungle…
"This See Sharp reprint presents the whole text . . . essential for all libraries, especially at this affordable price."  Library Journal 
 


"A must read. Recommended for all public, academic and junior through senior high schools."  Kansas Libraries