The Confidence Factor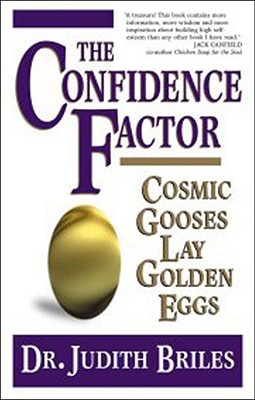 The Confidence Factor
Cosmic Gooses Lay Golden Eggs
Mile High Press, Paperback, 9781885331090, 162pp.
Publication Date: February 2008
* Individual store prices may vary.
Shop Local
Enter your zip code below to find indies closest to you.
Description
With Confidence, anything is possible the Confidence Factor delivers common sense and viable tactics to enhance, or regain, your confidence ... even when a cosmic goose comes your way. Cosmic gooses are those situations that happen that if you had your druthers, you would never want to go through again. A TREASURE This book contains more information, more wisdom and more inspiration about building high self-esteem than any other book I've read. Jack Canfield, Co-Author of Chicken Soup for the Soul.Packed with authentic, resonant candor and advice, the 10 Steps to Building Confidence we recreated from a nationwide survey of 1300 men and women. Some well-known (Tiger Woods, Oprah) and many representatives of the average person, each share their confidence shattering experiences-their cosmic gooses-and the steps they took to rebuild themselves. The Confidence Factor won the Gold EVVY Best Business Book and Best Over-All book from the Colorado Independent Publishers Association. Im 2008, it was a Finalist for Best Business Book-Motivational with USA Books. Foreign rights sold to China, Arabia,
About the Author
Dr. Judith Briles is The Book Shepherd. and the Author and Publishing Expert that every author needs. She has worked with thousands of authors over the years, guiding and coaching them in creating a book that has no regrets. Her 30 plus years in publishing is invaluable to any author--no matter what stage of their authoring development they are in. She is the founder and Chief Visionary Officer of Author U--a membership organization dedicated to the author who wants to be seriously successful.