A Workbook Companion Lessons 1-180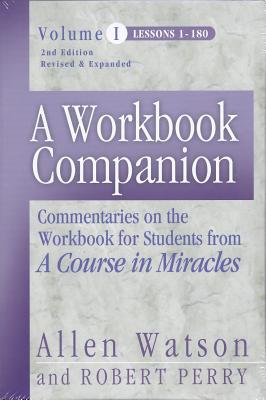 A Workbook Companion Lessons 1-180
Commentaries on the Workbook for Students from a Course in Miracles
Circle Publishing, Paperback, 9781886602243, 568pp.
Publication Date: August 2005
* Individual store prices may vary.
Shop Local
Enter your zip code below to find indies closest to you.
Description
A Workbook Companion is an invaluable aid to students of A Course in Miracles. As its title suggests, it acts as a companion as the student goes through the 365 daily lessons of the Workbook of A Course in Miracles. It provides insightful commentary into the teaching covered in the lessons, detailed instructions on how to actually apply the lessons in daily life, and helpful anecdotes from the author's own life and experience of doing the lessons. It also contains a series of short essays which cover in more depth some of the particular practice techniques and methods found in the Workbook, such as meditation. This book is an invaluable guide to anyone doing the Workbook of A Course in Miracles, helping the student to put into practice the radical teachings of the Course and experience the inner peace and miracles that it promises.
About the Author
Allen is a writer and teacher of A Course in Miracles and currently works with Course students in Portland, Oregon. He has written a number of books and booklets on the Course, including A Healed Mind Does Not Plan, Seeing the Bible Differently, the Workbook Companion series on the Internet and in book form, as well as co-author of Let Me Remember You. Before joining the Circle of Atonement for several years, he published Miracle Thoughts newsletter and led Course study groups in New Jersey.

Robert Perry is a Vancouver poet who teaches English.