A Sustainable Economy for the 21st Century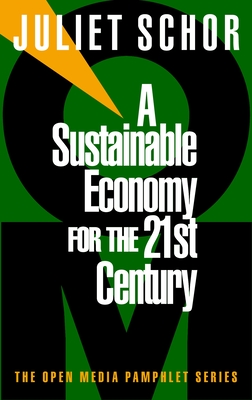 A Sustainable Economy for the 21st Century
Seven Stories Press, Paperback, 9781888363753, 64pp.
Publication Date: January 1, 1999
* Individual store prices may vary.
Buy at Local Store
Enter your zip code below to purchase from an indie close to you.
or
Not Currently Available for Direct Purchase
Description
In this groundbreaking pamphlet, Juliet Schor, author of The Overworked American, examines how Americans can begin making the shift away from a resource-destructive society to one that values the environment, community, and quality of life above business and profit. She a traces back how after W.W.II, Americans had hoped that technology and social investment would yield shorter work weeks, more pay, and complete healthcare. Instead, we work more, get paid less, and maintain an indecent adult minimum wage. Where did we go wrong?
Schor's pamphlet charts an economic vision based that aims to reduce work hours, increase leisure, create new work schedules that are not operating on a "male" model of employment, create green quotas and industry-wide environmental standards, alternative housing and transportation, raise minimum wage, restructure labor relations, change corporate culture, and promote social accountability. The pamphlet "sets the guideposts," writes Noam Chomsky, "for constructive thinking and action to save our country from becoming a plaything for investors and transnational corporations, and to place its fate in the hands of its citizens."
About the Author
JULIET SCHOR is the author of the best-selling book, The Overworked American: The Unexpected Decline of Leisure (Basic Books, 1992). Schor earned her B.A. from Wesleyan University and her Ph.D. in economics from the University of Massachusetts at Amherst. She has been teaching at Harvard University since 1984, where she is a Senior Lecturer and Director of Women's Studies.