Being Peace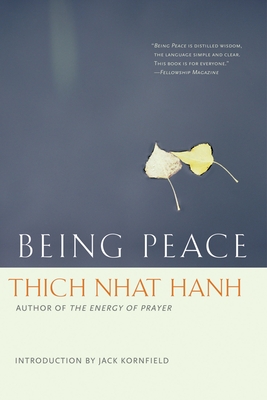 Being Peace
Parallax Press, Paperback, 9781888375404, 118pp.
Publication Date: August 4, 2005
* Individual store prices may vary.
Buy at Local Store
Enter your zip code below to purchase from an indie close to you.
or
Buy Here
Description
A bestseller with over 250,000 copies sold, "Being Peace" is the seminal founding work by Zen Master and Nobel Peace Prize nominee Thich Nhat Hanh. With a new introduction by Jack Kornfield and the first update since its release over fifteen years ago, this eloquent meditation on "being peace in order to make peace" is more relevant than ever. A book for everyone concerned about the state of the world and the quality of our lives, it has lost none of its timeliness since it was first published in 1987. It is filled with practical suggestions how to create a more peaceful world "right in the moment we are alive." Contains Thich Nhat Hanh's key practices, including a guide to the practice of reconciliation which has become a peacemaking tool in many other religious traditions.
This beautiful, newly revised edition is the perfect starting point for those who are getting their first introduction to Buddhism as well as a must-have for those already engaged in the tradition.
With illustrations by Mayumi Oda.
About the Author
Thich Nhat Hanh is a Vietnamese Buddhist Zen master, poet, scholar, and peace activist who was nominated for the Nobel Peace Prize by Dr. Martin Luther King Jr. He is the author of many bestselling books, including the classics Peace Is Every Step, Fear, and The Art of Power. Hanh lives in Plum Village, his meditation center in France, and leads retreats worldwide.
Known to many as the 'Matisse of Japan', artist Mayumi Oda has done extensive work with female goddess imagery. Born to a Buddhist family in Japan in 1941, Mayumi studied fine art and traditional Japanese fabric dyeing. Mayumi has exhibited over 50 one-woman shows throughout the world. Her artwork is also part of the permanent collections of the Museum of Modern Art (New York, NY), The Museum of Fine Arts (Boston, MA), Yale University Art Gallery (New Haven, CT), Library of Congress (Washington, DC) and many others. She has authored books about her own creative life, including Goddesses and I Opened the The Gate Laughing, and Merciful Sea: 45 Years of Serigraphs. She has also illustrated several books for notable authors, including Thich Nhat Hanh s popular Touching Peace and Present Moment Wonderful Moment.
In addition to her work as an artist, Mayumi Oda has spent many years of her life as a global activist participating in anti-nuclear campaigns worldwide. She founded Plutonium Free Future in 1992. On behalf of her organization, Mayumi lectured and held workshops on Nuclear Patriarchy to Solar Communities at the United Nations NGO Forum and the Women of Vision Conference in Washington, DC. In 1999, she launched the WASH (World Atomic Safety Holiday) Campaign and is currently working to raise awareness among the citizens of Hawaii about the use of Depleted Uranium at the Pohakuloa military base. Her current activist work and the royalties beneficiary of this edition of Random Kindness and Senseless Acts of Beauty will be community recovery work in Fukushima, Japan.
Feeling a deep connection with the mother earth, Mayumi has always enjoyed growing her own medicinal herbs and vegetables. In 2000, she started Ginger Hill, a farm and a retreat center on the Big Island of Hawaii. The artistically landscaped five-acre property is home to a number of workshops and retreats ranging from traditional Hawaiian Hula to medicinal cooking. Mayumi currently lives in Fukushima Japan and spends summers at Ginger Hill Farm. She travels worldwide, teaching workshops in creativity and self-realization.
Mayumi Oda's website is mayumioda.net. Mayumi s activities and workshops can be found at her farm website gingerhillfarm.com; her blog is mayumioda.blogspot.com.
Jack Kornfield trained as a Buddhist monk in the monasteries of Thailand, India, and Burma, and he is one of the key teachers to have brought Buddhist mindfulness practice to the West. He is the cofounder of the Insight Meditation Society in Barre, Massachusetts, and of Spirit Rock Meditation Center in Woodacre, California. His books include A Path with Heart; Teachings of the Buddha; After the Ecstasy, the Laundry; and The Wise Heart.