World as Lover, World as Self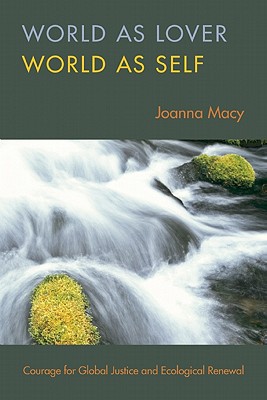 World as Lover, World as Self
Courage for Global Justice and Ecological Renewal
Parallax Press, Paperback, 9781888375718, 206pp.
Publication Date: October 1, 2007
* Individual store prices may vary.
Buy at Local Store
Enter your zip code below to purchase from an indie close to you.
or
Not Currently Available for Direct Purchase
Description
A new beginning for the environment must start with a new spiritual outlook. In this book, author Joanna Macy offers concrete suggestions for just that, showing how each of us can change the attitudes that continue to threaten our environment. Using the Buddha's teachings on "Paticca Samuppada, " which stresses the interconnectedness of all things in the world and suggests that any one action affects all things, Macy describes how decades of ignoring this principle has resulted in a self-centeredness that has devastated the environment. Humans, Macy implores, must acknowledge and understand their connectedness to their world and begin to move toward a more focused effort to save it.
About the Author
Eco-philosopher Joanna Macy, Ph.D., is one of the best know spiritual activist in this country. She is a scholar of Buddhism, general systems theory, and deep ecology. A respected voice in movements for peace, justice, and ecology, she interweaves her scholarship with four decades of activism. Her wide-ranging work addresses psychological and spiritual issues of the nuclear age, the cultivation of ecological awareness, and the fruitful resonance between Buddhist thought and contemporary science. Her group methods have been adopted and adapted widely in classrooms, churches, and grassroots organizing. Her work helps people transform despair and apathy, in the face of overwhelming social and ecological crises, into constructive, collaborative action. The author of 10 previous books Mrs. Macy travels widely giving lectures, workshops, and trainings in the Americas, Europe, Asia, and Australia. She lives in Berkeley, California.