Three Novels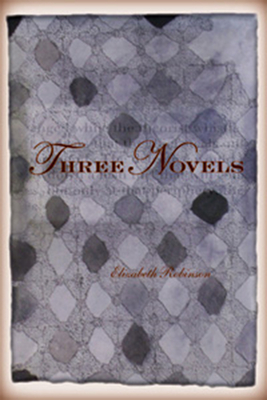 Three Novels
Homage to Wilkie Collins and George Gissing
Omnidawn Publishing, Paperback, 9781890650513, 73pp.
Publication Date: September 1, 2011
* Individual store prices may vary.
Buy at Local Store
Enter your zip code below to purchase from an indie close to you.
or
Not Currently Available for Direct Purchase
Description
Poetry. THREE NOVELS revisits the terrain of the Victorian novel, entering that world with a particular affinity for the feminine within its social and physical landscape. Taking cues from three different novels, thesepoems show the intimacies that make "adhesive relation" through troth, kin or links to landscape. Who owns this body, this estate? Where does the woman hide and what is the empowering eros of her role? THREE NOVELS proposes "disguise as clairvoyant," and here the wily female body is resistant to ownership as it slips through the hidden paths and plot twists, through the downy lawns, the nocturnal byways, and the gritty train stations into the "accounts most accurate to the invention." "Elizabeth Robinson's new and original collection recasts three mysterious novels into poetic prose fragments each of which underscores questions also raised in the novels: what is to be believed, which clues should be followed, which layer of meaning represents any form of truth.... This original and intriguing exploration also urges reading itself as a way to grasp our lives" Martha Ronk.
About the Author
Elizabeth Robinson is the author of several books of poetry, including ON GHOSTS (Solid Objects, 2013), COUNTERPART (Ahsahta Press, 2012), THREE NOVELS (Omnidawn, 2011), ALSO KNOW AS (Apogee Press, 2009), THE ORPHAN & ITS RELATIONS (Fence Books, 2008), INAUDIBLE TRUMPETERS (Harbor Mountain Press, 2008), UNDER THAT SILKY ROOF (Burning Deck Press, 2006), and APPREHEND, the 2003 winner of the Fence Modern Poets Prize. She has also received grants from the Fund for Poetry, the Foundation for Contemporary Arts, and the Boomerang Foundation. Educated at Bard College, Brown University, and the Pacific School of Religion, Robinson has most recently served as the Hugo Fellow at the University of Montana.
Praise For Three Novels…
"Elizabeth Robinson's new and original collection recasts three mysterious novels into poetic prose fragments each of which underscores questions also raised in the novels: what is to be believed, which clues should be followed, which layer of meaning represents any form of truth.... this original and intriguing exploration also urges reading itself as a way to grasp our lives."  —Martha Ronk, author, Vertigo
"Part lyrical investigation, part investigative evocation, always insightful and original, Elizabeth Robinson's Three Novels is a poetic journey into the prose delectations of the ever-wonderful Wilkie Collins and George Gissing. Just as Susan Howe's exploration of Emily Dickinson offered readers a fresh path into her works and days, so now has Robinson traveled back into nineteenth-century England to rediscover masterpieces by two of its most quirky, unconventional giants. A real jewel, Three Novels recalls the ineffable one that Wilkie Collins conjured in The Moonstone, the mystery that T. S. Eliot referred to as 'the first...and the best of the modern English detective novels.' And Robinson's achievement of bringing fresh life to these classics, already bursting with life themselves, is a feat that deserves our gratitude and admiration." —Bradford Morrow, author, The Diviner's Tale
". . . the bravery in [
Apprehend
] . . .and its disobedience is everwhere conditioned by a powerful subversion of our habits of mind, our expectations as readers, our lazy desire to be comforted by the familiar. These poems brilliantly reinvent the moral reckonings common to all fable. Elizabeth Robinson reminds us to wonder and, in wondering, to experience wonder as the fault line between how the world is and what we apprehend in and of it."  —Ann Lauterbach
"The poems in Apprehend (Fence Modern Poets Award 2002) mark a new chapter in the work of Elizabeth Robinson, who over the last few years has quietly, but unmistakably, emerged as the one of the finest poets of her generation. Apprehend amplifies the body of her previous work, with its focus on the crisis of spiritual desire, examining the insurgence, regulation, and ambiguity of eros through a brilliant re-reading of classic fairy tales." —Patrick Pritchett, Jacket 23
"We perceive more than words allow us to say. The metaphoric relations in Robinson's poetry, however, point out possible orders of attention that may help us reflect on our relationship to otherness—an otherness that resides within." —Dale Smith on "Inaudible Trumpeters"