The Book of a Thousand Eyes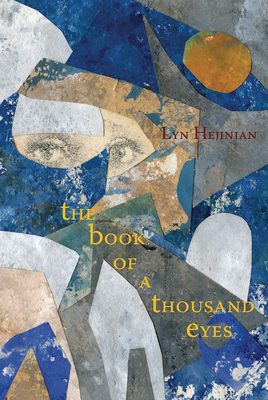 The Book of a Thousand Eyes
Omnidawn Publishing, Paperback, 9781890650575, 333pp.
Publication Date: April 1, 2012
* Individual store prices may vary.
Buy Now
or
Shop Local
Enter your zip code below to purchase from an indie close to you.
Description
Written over the course of two decades, The Book of a Thousand Eyes was begun as an homage to Scheherazade, the heroine of The Arabian Nights who, through her nightly tale-telling, saved her culture and her own life by teaching a powerful and murderous ruler to abandon cruelty in favor of wisdom and benevolence. Hejinian's book is a compendium of night works lullabies, bedtime stories, insomniac lyrics, nonsensical mumblings, fairy tales, attempts to understand at day's end some of the day's events, dream narratives, erotic or occasionally bawdy ditties, etc. The poems explore and play with languages of diverse stages of consciousness and realms of imagination. Though they may not be redemptive in effect, the diverse works that comprise The Book of a Thousand Eyes argue for the possibilities of a merry, pained, celebratory, mournful, stubborn commitment to life.
About the Author
Lyn Hejinian is a poet, essayist, teacher, and translator. Her most recent published book of poetry is THE BOOK OF A THOUSAND EYES (Omnidawn, 2012). Other books include A BORDER COMEDY (Granary Books, 2001), SLOWLY and THE BEGINNER (both published by Tuumba Press, 2002), THE FATALIST (Omnidawn, 2003), and SAGA/CIRCUS (Omnidawn, 2008). The University of California Press published a collection of her essays entitled The Language of Inquiry in 2000. Translations of her work have been published in China, Denmark, Finland, France, Holland, Italy, Japan, Russia, Serbia, Spain, and Sweden. She is currently serving as a Chancellor of the Academy of American Poets. She teaches in the English Department at the University of California, Berkeley, and is the Chair of the UC-Berkeley Solidarity Alliance, an activist coalition of union representatives, workers, staff, students, and faculty fighting to maintain the accessibility and affordability of public higher education in California.
Praise For The Book of a Thousand Eyes…
"For Lyn Hejinian the concept "everything" or "everything living" is the greatest seduction. In this book of tales, poems, polemics, lullabies, treatises, asides (the behavior of birds, the behavior of ghosts; the dramas of capital, species, percipient individual), "everything" is captive to life and continuation is queen. Like Scheherazade's ploy, to which it more than nods, The Book of a Thousand Eyes spins out scene after moral after speculation merely for the payoff one wakes to daily—the privilege of beginning again. "Nothing has been proved," of course, but the combined exhilaration and outrage of what experience means in the language of the twenty-first century is robustly nailed in this book. "Sleep," Hejinian says, "can't put interpretation to rest"—far from it; regardless of which consciousness these antic and anti-summary works probe, they propose the very opposite of rest. Hejinian's sallies are at once pragmatic, mysterious, and an utter delight to read."  —Jean Day, author, The I and the You
"A third of the way into The Book of a Thousand Eyes comes the question, "Isn't sleep fitted to this world?" And the easy answer—abundantly Yes—both masks and unveils the bigger shape. (As the Earl of Anglesey noted, "To this Rhetorical Question the Commons pray they may Answer by another Question.") The devil's in the details every night, all night. Lyn Hejinian knows that familiarity breeds the predictable but she knows as well that—and how—"contact produces uncertainty." So this is a brilliantly uncertain book, a book of practical and fantastic connection, connection as multiple and as hopeless as love might be, connection as big and leggy as the night is long. Here, the old bifurcations and faultless authorities are broken down into a continuous waking hour. Waking?—owl-like, magnificent, traveling. Continuous?—"Our sleep has no conclusion." This book is night itself."  —C. S. Giscombe, author, Prairie Style