Blind Man's Bluff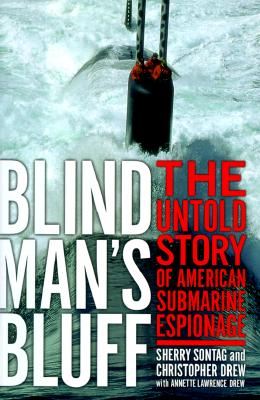 Blind Man's Bluff
The Untold Story of American Submarine Espionage
PublicAffairs, Hardcover, 9781891620089, 352pp.
Publication Date: October 19, 1998
* Individual store prices may vary.
Not Currently Available for Direct Purchase
or
Shop Local
Enter your zip code below to purchase from an indie close to you.
Description
Over the course of five years, investigative reporters Sherry Sontag and Chris Drew interviewed hundreds of men who had never spoken about their underwater lives--not even to their wives and children. They uncovered a wealth of classified information: the tapping of undersea Soviet telephone cables, the stealing of Soviet weapons, the tragic collisions of enemy submarines. They tell of medals awarded in secret and deaths disguised with disinformation. "Blind Man's Bluff" is a critical work of history that reads with all the excitement of a Tom Clancy novel and all the tragedy of "Das Boot.
About the Author
Sherry Sontag is an investigative journalist who, before turning to Blind Man's Bluff, was a staff writer for the National Law Journal. While there, she wrote about the Soviet Union, international affairs, and domestic scandals in securities and banking. Prior to that, Sontag wrote for the New York Times. A lifelong resident of New York, she has degrees from Columbia University's Graduate School of Journalism and Barnard College.
Christopher Drew is an investigative reporter and projects editor at the New York Times. He joined the Times in 1995 after working for nearly a decade in the Washington, D.C., bureau of the Chicago Tribune, where he wrote about national security issues and won two awards from the White House Correspondents' Association. Drew also has worked for the Wall Street Journal and the Times-Picayune in New Orleans, where he was born and raised and graduated from Tulane University.
Annette Lawrence Drew, the book's researcher, has a Ph.D. in politics from Princeton University. She and Christopher Drew are married and live with their daughter, Celia, in Montclair, New Jersey.
Drew has a Ph.D. from Princeton.