London Quiz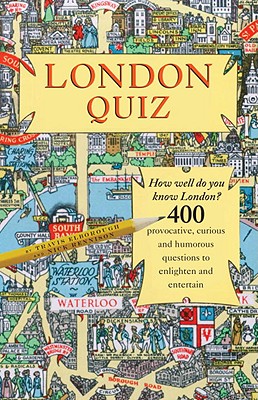 London Quiz
Little Bookroom, Paperback, 9781892145871, 248pp.
Publication Date: September 28, 2010
* Individual store prices may vary.
Not Currently Available for Direct Purchase
or
Shop Local
Enter your zip code below to purchase from an indie close to you.
Description
Even the most devoted Anglophile will learn something new from these four hundred fun and wide-ranging trivia questions about London's history, monuments, architecture, famous residents, place-names, notable events, and more. A delightful way to explore the city on foot or via armchair, this fun book is a perfect stocking stuffer, with history ranging from obscure lore to facts and fascinating, often humorous histories.

Here's a sample:

Where is the only cross-eyed statue in London and who does it depict?
a) Next to the Royal Exchange in the City of London; George Peabody, the nineteenth-century American-born philanthropist
b) At the point where Fetter Lane and New Fetter Lane converge; John Wilkes, the eighteenth-century politician
c) Islington Green; Sir Hugh Myddleton, the seventeenth century entrepreneur

Answer: b) John Wilkes really did have a severe squint, as reproduced in the statue, but despite his looks, he was a legendary and eloquent womanizer who once said that, when meeting an attractive woman, it took him only ten minutes
"to talk away his face."

What drowned nine people in Tottenham Court Road in October 1814?
a) A water flood from a nearby reservoir
b) A milk flood from a nearby dairy
c) A beer flood from a nearby brewery

Answer: c) A beer flood. A huge vat in the Horseshoe Brewery burst its hoops and ruptured other vats standing near it. More than a million liters of beer swept through the walls of the brewery and into the streets, carrying away a house and drowning nine unfortunates. The site of the Horseshoe Brewery is now occupied by the Dominion Theatre.
About the Author
Travis Elborough has been a freelance writer, author, and cultural commentator for the last seven years. He is a regular contributor to the Guardian and has written for the Sunday Times, New Statesman, The Oldie, Zembla, and BBC History magazine. He lives in London, England.

Nick Rennison is a bookseller, editor and freelance writer. He reviews new titles for Waterstones Books Quarterly, and is the author of the Bloomsbury Good Reading Guide, 100 Must-Read Classic Novels, and co-author of 100 Must-Read Science Fiction Novels and 100 Must-Read Crime Novels.
Praise For London Quiz…
"'How well do you know London?' enquires the cover. Pretty well, we'd like to think. But after working our way through the 400 questions in this portable treasure trove, we realise we're still paddling on the foreshore while a great Thames of trivia lays undiscovered before us....It helps that there are three multiple choice answers to every question, but not a lot. This is a quiz more fiendish than a game of Monopoly between Sherlock Holmes and Guy Fawkes at the centre of Hampton Court Maze. It's also highly addictive, and you'll learn plenty from the well-explained answers. The perfect stocking filler for anyone who thinks they know London." --The Londonist

"You won't really know how well you really know London until you read London Quiz. Even the most knowledgeable Anglophile will learn something new from the 400 trivia questions about London history, monuments, architecture, famous residents, place names and notable events. London Quiz provides a novel way to explore the city on foot or from your armchair." --Pittsburgh Tribune Review