Biscotti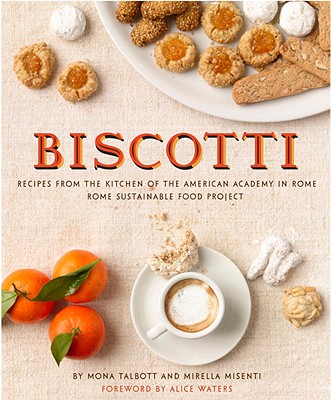 Biscotti
Recipes from the Kitchen of the American Academy in Rome
Little Bookroom, Hardcover, 9781892145895, 135pp.
Publication Date: October 12, 2010
* Individual store prices may vary.
Buy Now
or
Shop Local
Enter your zip code below to purchase from an indie close to you.
Description
The Rome Sustainable Food Project, a program devoted to providing organic, local, and sustainable meals for the community of the American Academy in Rome, has launched a delicious revolution to rethink institutional dining. Headed by chef Mona Talbott, a Chez Panisse alum, and guided by Alice Waters, the menus have given rise to a new, authentic cuisine inspired by la cucina romana, Chez Panisse, and the collective experience of those working in the AAR kitchen. Biscotti is the first book in the series. Each volume, covering a single subject, contains authentic, simple recipes for favorite dishes served at the academy's communal table, narrated with carefully explained techniques and methods–suitable for both the home cook and the institutional kitchen.

Our first bite into this book project is a sweet one, focusing on fifty biscotti and dolcetti (cookies and sweets). Subsequent volumes in the series will include muffins and scones; pasta, long and short; vegetables; preserves; and more.
Praise For Biscotti…
"...small but comprehensive, comprising 50 mostly traditional recipes for the treats best loved by the Academy's friends, students and workers (the authors are both employed there). Start with almond-cornmeal and work you way through to chocolate-hazelnut." —Charlotte Druckman, Wall Street Journal Weekend

"This book has recipes for all those cookies you tasted if you've ever been to Italy or lived there and thought you'd never find again, she says." —FoxNews.com
 
"As you'd expect from a book with a foreword by Alice Waters, its recipes are sustainable yet delicious – 50 types of Italian cookies from pine nut and rosemary to honey and cardamom." —The Observer, The 25 Best Cookbooks of 2010
 
"Proof that not all biscotti are sweet, super-crunchy half-moons. The bite-sized biscotti here range from dry and lightly sweet — the kind of cookie you'll want to soften with a dip into a caffe latte or a sweet Italian wine like vin santo — to highly sweetened varieties that don't need any liquid pairing." —American Airlines, AA.com
 
"Dieters, beware: "Biscotti:" a smart little cookbook from the Little Bookroom, is Mephistopheles in cookie form…. With a forward by Alice Waters, this book is the first of a series of small hardbacks devoted to a single subject that will provide a glimpse into the American Academy in Rome." —Pittsburgh Tribune
 
"Biscotti – Recipes from the kitchen of the American Academy in Rome offers a remarkable selection of cookies. The recipes can be made for greater numbers by scaling up the quantities, which makes it an interesting book for those with a crowd to feed and little time. Tastefully executed, this volume would be a well-received gift for any baker, be they novice or passionate expert." —Mostly Food
 
"What can be better than a cup of coffee and a biscotti in the morning? That is the premise behind this lovely and mouthwatering book. Author Mona Talbott is the executive chef of the Rome Sustainable Food Project, which was established to create eco-gastronomic, authentic cuisine for the American Academy in Rome, where American cooks create biscotti, a mainstay of Italian sweets." —June Sawyer, The Chicago Tribune
 
"Biscotti: Recipes from the Kitchen of The American Academy in Rome is a really charming book and filled with some familiar but mostly unfamiliar recipes.… I could easily see working my through this book, cookie by cookie!" —Amy Sherman, The Epi-Log on Epicurious
 
"Just in time for Thanksgiving is Mona Talbott's cookbook, Biscotti: Recipes from the Kitchen of the American University in Rome. The protege of Alice Waters consulted on the menus for Secretary of State Hillary Clinton's Chappaqua residence and worked as a private chef for Annie Leibowitz." —Vogue
 
"For the past four years, Canadian chef Mona Talbott of the American Academy in Rome—and author of the new cookie bible Biscotti—has transformed the institution's dinner table into a model for sustainable dining." —Travel + Leisure
 
"This charmer carefully explains techniques—and a little history—behind the traditional Italian bite-sized cookies served at the Academy's communal table. A treat to try: biscotti al pistachio." —Coastal Living