Feeling Very Strange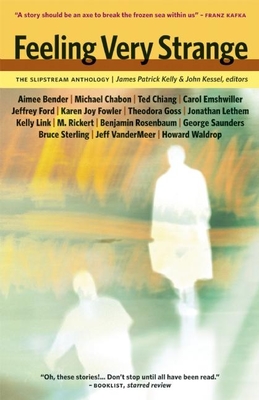 Feeling Very Strange
The Slipstream Anthology
Tachyon Publications, Paperback, 9781892391353, 288pp.
Publication Date: June 1, 2006
* Individual store prices may vary.
Buy at Local Store
Enter your zip code below to purchase from an indie close to you.
or
Buy Here
Description
If it is true that the test of a first-rate mind is its ability to hold two contradictory ideas at the same time, then we live in a century when it takes a first-rate mind just to get through the day. We have unprecedented access to information; cognitive dissonance is a banner headline in our morning papers and radiates silently from our computer screens. Slipstream, poised between literature and popular culture, embraces the dissonance.

These ambitious stories of visionary strangeness defy the conventions of science fiction. Tales by Michael Chabon, Karen Joy Fowler, Jonathan Lethem, Carol Emshwiller, George Saunders, and others pull the reader into a vivid dreamspace and embrace the knowledge that life today is increasingly surreal.
About the Author
James Patrick Kelly is the author of many novels and short stories, including "Look Into the Sun", the Hugo-winning Think Like a Dinosaur, and the Nebula-winning "Burn". He lives in New Hampshire.

John Kessel lives in Raleigh, North Carolina.
Praise For Feeling Very Strange…
Oh, these stories!... Don't stop until all have been read."
Booklist, starred review

Is Slipstream just science fiction and fantasy that doesn't know that it's science fiction or fantasy? Or is it more than that? Decide for yourself by slipping into short stories that are superb, whatever you choose to call them, from Lethem, VanderMeer, Chabon, Waldrop, and others."
SciFi.com

At last we have our definitive collection.... And once again, we can rejoice that revolution after revolution will be printed, not televised."
The Agony Column

Worth buying? Well if you want to be the hippest cat on the block, then yes."
SF Crowsnest

Intriguing stories...plenty of good reading."
Publishers Weekly

Leave it to Tachyon, one of the most exhilarating and intellectually probing small presses, to put out a book like this. We hope it makes its way out of what the editors call the ghetto of the fantastic" and into the mainstream. This book is a joy and could easily become a staple of college syllabi in the not-so-distant future."
Time Out Chicago

...whether you're interested in the boundaries of slipstream or not, Feeling Very Strange is a terrific collection of stories...."
Intergalactic Medicine Show

If you read the contents of Feeling Very Strange in linear order (I recommend that you do), you will actually have a nonlinear, information-building, increasingly exhilarating experience."
Science Fiction Studies, Vol. 34

I've seldom read an anthology in which every story works so well both as a stand-alone and as an element in a greater whole. Heed its contributors and marvel that so diverse a group sings such fine distinctive solos and yet harmonizes so well. Credit Kessel and Kelly, too, for the grace of their introduction, the art of the book's arrangement, and the modesty of their editorial presence."
Michael Bishop

I expect to wake up as a giant cockroach tomorrow morning. Can anything really be better than that?"
Reading the Leaves