The Secret City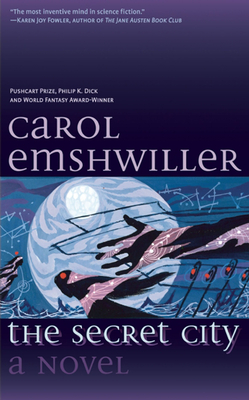 The Secret City
Tachyon Publications, Paperback, 9781892391445, 209pp.
Publication Date: April 1, 2007
* Individual store prices may vary.
Buy at Local Store
Enter your zip code below to purchase from an indie close to you.
or
Not Currently Available for Direct Purchase
Description
Written in a voice that is accessible to both mainstream and genre readers, this gripping tale contains a contemporary political subtext that is packed with humanism, complexity, and subtle humor. This inventive story centers on a mysterious enclave protecting a lost culture, a hidden city in the wilderness where stranded aliens struggle to preserve their fragile society. Hoping for a better life, many have fled the Secret City in favor of trying to survive in the harsh human world; others remain concealed, living out a fading memory in hope of deliverance. When the mythical rescuers suddenly arrive, insisting on an immediate interplanetary return, these very-human aliens discover that neither world is truly their own.
About the Author
Carol Emshwiller is the author of the collections Report to the Men's Club, The Start of the End of it All, Verging on the Pertinent, Joy in Our Cause, and I Live With You, and the novels The Mount, Carmen Dog, Ledoyt, and Leaping Man Hill.
Praise For The Secret City…
"First and foremost, Emshwiller is a poetwith a poet's sensibility, precision, and magic. She revels in the sheer taste and sound of words, she infuses them with an extraordinary vitality and sense of life."  Newsday

"Emshwiller's readers know her to be a major fabulist, a marvelous magical realist, one of the strongest, most complex, most consistently feminist voices in fiction."  Ursula K. Le Guin

"Emshwiller's newest novel is a blazing fast read."  The Agony Column

"The finesse and grace of Emshwiller. She's a writer of such slantwise sensibilities and such deep perceptions."  SciFi.com/Sci Fi Weekly

"Emshwiller has been writing occasionally for 50 years, and a new work is a treat."  The Denver Post

"The Secret City is yet another strong late work from one of our treasures."  SF Site, featured review


"Damn near perfect . . . touchingly and complexingly so."  Asimov's Science Fiction